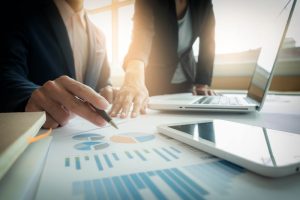 Gary Morris, CEO and founder, Successful Channels, shares why vendors should lay out disciplined channel planning processes to encourage partners generate more revenue growth
"Partner business planning is a hassle. No partners or CAMs like to do it, and it's difficult to measure performance-to-plan."  That is the prevailing sentiment from many channel executives that struggle with partner business planning and an effective process for managing it. So why bother? The reason it is worth trying to get it right is that partners that develop well-defined and effective business plans and measure their performance-to-plan generate 5-30%+ more revenue growth than those that do not. This is based on a study of thousands of partner's revenue performance for a brand where they used a disciplined planning and performance management processes.
Channel teams that execute disciplined partner planning processes complete some or all the following best practice steps:
Each of these partner planning components plays an essential role in enabling, motivating, activating, and measuring a partner's performance.
Build Partner Capabilities:Compare partner's capabilities to best practices vs. peers and create action plans for improvement using a scorecard
Increase Partner Commitments:Create a 36-month business forecast and commitment plan along with a customized profitability model for the partner
Build Partner Sales Pipeline:Create a marketing plan with a full lead waterfall forecast, revenue, budget and forecasted ROI
MDF Request:An ROI and business justification for a vendor's shared investment in a partner's marketing plan
Help Execute Partner Marketing:Execute the business and marketing action plan
Measure Partner Performance:A Quarterly Business Review PowerPoint that includes plans, performance-to-plan, CAM observations, created automatically by bringing all data together into a consolidated and annotated presentation
So how do you determine which of these planning steps are right for your channel organisation? How can you estimate the return you'll get on your investment in partner planning and performance management? The answer to these questions will help estimate the impact of partner planning for your company.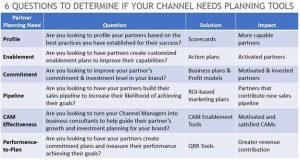 When evaluating if it is worth the effort to implement partner planning and performance management tools, consider your three key users and the value that planning will provide each. Well-designed planning systems help build partner, CAM and channel executive confidence in the achievement of the forecasted results.
Value proposition for a well-designed partner planning and performance management system:
Partners:Look for planning systems that help build improved capabilities, revenue growth and profitability
CAMs:Look for planning systems that turn them into effective and valued business consultants for their partners
Channel Executives:Look for planning systems that motivate partners, improve the effectiveness of CAMs and provide plan and performance-to-plan reporting across all partners
Meeting all channel user's needs is critical for achieving measurable revenue growth.  The difference between success and failure for partner planning is making sure that each process participant gets the things they value most out of the process.