Linksys used Gitex for the soft launch of its smart business products, signaling its re-entry into the SMB market. The networking company has also announced a new global SMB reseller programme called Linksys Partner Rewards, which provides benefits such as education, marketing tools and incentives to help resellers grow their business. We spoke to Amanulla Khan, Director- Emerging Markets at Linksys, to find out what the company has in store.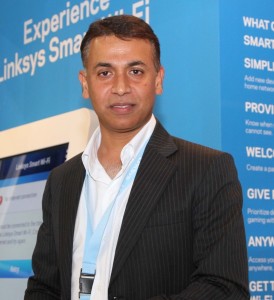 Are you keeping the Linksys brand alive?
Belkin has decided to continue with the brand as the brand equity is really high in terms of recognition.  We are ahead of any of our competition in double digits, globally not just in specific region. If you remember our lineage, Linksys start off with the SMB products and went into home network after being acquired by Cisco. So we were part of the Cisco fold as part of their consumer business till we got acquired by Belkin.
So, we have been in the business space to start with and 5-99 user space has always been our core strength. Though we will continue to focus on the home networking space, we are going back to our SMB roots.
Today, it is a great achievement and testimonial to the commitment to this region that we have chosen Middle East for the soft launch of our smart business products globally. On the home networking front, we are continuing to make investments by rolling out top of the range products, which include our Wi-Fi routers, range expanders and powerline products.
What can the channel expect from Linksys in terms of product roadmap?
What the channel can expect us is a whole range of new products and you will see that most of these products are first to the market. In addition to the hardware investments, we are investing in smart Wi-Fi cloud based home network management solution that gives the control of home network in the hands of the consumer while on the move. With this, users can manage the whole network, see what devices are connected to it and define the bandwidth each device should get and see the Internet applications these devices are accessing. Very soon, we are adding a network map to this solution so users can actually get into their devices, see what is happening, and troubleshoot.
What kind of business solutions have you launched now?
It is being done in three phases. The first phase is about connectivity products, rolled out from now until February next year. This includes routers, switches (both managed and unmanaged), VPN routers and physical monitoring solutions. We will also launch a NVR to compliment the IP surveillance cameras so that users can record everything and view it remotely from wherever they are.
Under phase two, we will bring could management capabilities to our smart business solutions. SMEs typically don't have IT managers and they don't want to outsource IT services. So we are going to make it very simple for business owners to manage their networks, decide what kind of application should be given to which employee and when.  We will bring automation products under phase three. Through Belkin we already have WeMo technology, which is the platform for home automation. This will be extended to business solution so users can control their office from anywhere, turn things on and off, and even put them on a schedule.