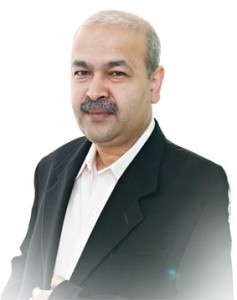 "A group executive needs to be a well read and versatile individual. He or she must possess strong business acumen in addition to a keen financial instinct. IT is knowledge led business and as group executive within an IT company we often have to assume the role of a mentor who offers guidance and motivates those around him to constantly strive for perfection"
"A journey of over 20 years in the IT Industry has been the foundation for my channel experience. The experience of working with various vendors and handling variety of job functions has helped me understand the details of the channel across the MENA and APAC regions. This in turn has enabled me to retain the existing resellers, while securing new players. The journey has been very challenging, but rewarding and motivating," says Ajay Singh Chauhan, CEO, Spectrum group.
With a degree in Engineering from IIT, Mumbai, India, Chauhan worked in a variety of roles at some prominent organisations including Mindware and Jeraisy Computers and Communications Services prior to joining Spectrum Group. Having acquired the necessary experience, Chauhan was soon promoted within the ranks at the company and is today the man behind the organisation's width and breadth of operations.
"The role of a group executive has become multifunctional. He or she has to be conversant in all fields of knowledge and can no longer focus on sales or marketing. A group executive should have a keen eye and ear on the evolving business environment, especially when it comes to understanding the market, economic scenarios and financial management. Most importantly, he must possess good interpersonal skills essential for HR management as well as for building reliable relationships with partners and clients," he says.
Chauhan believes that developing a company's vertical strengths is absolutely critical to success, a concept that underpins the Spectrum Group's larger business strategy. "One of our fundamental factors is to develop vertical strengths and be domain focused. Each vertical is backed by a strong team of pre-sales consultants to offer real value addition to the respective vertical. Expanding geographically takes us closer to our customers and helps us understand and serve them much better," Chauhan adds.
He says that while he does enjoy engaging with the channel and equipping them with the necessary skills to sustain mutual benefit, working in a competitive yet financially strained industry can be quite challenging.
"Some of the aspects I find most challenging include the ability to maximize the usage of available databases, in addition to which project estimation time, fund requirements and availability of cash-flow and fund management is a huge challenge every day. Managing unforeseen time lags in project completion and ensuring we have taken the necessary steps to counter any is probably even harder. All these elements are crucial to success and cannot be overlooked, making the task even trickier," he says.
"Develop a sound knowledge of the business and the different products and solutions available in the market today. Understand the markets, notice untapped opportunities and develop the right strategy. Develop your analytical and forecasting capabilities and most importantly, enhance your finance knowledge for nothing is more important than cash flow management and profitability. Focus on nurturing your employees and partners to deliver what they promise the customer, for while that will ensure stable returns it will also give you the resources needed to innovate, hire qualified personnel and eventually expand operations. Remember all the aspects of the business are interconnected and although the task may seem daunting, it isn't impossible," he says.
According to Chauhan, a successful IT distribution company is one that focuses not just on its product portfolio but also on its ability to enhance value. He explains, "The market is no longer about selling a box, today the customers want a solution and therefore an organization needs to invest in enhancing the skillsets of resellers as well as employees so that they may understand the need for the solution and deliver a superior experience."