Snapchat is a social network with a difference. Unlike others (including Instagram and Facebook), the photos and videos – Snaps – which are shared disappear after a certain period of time, which is chosen by the sender.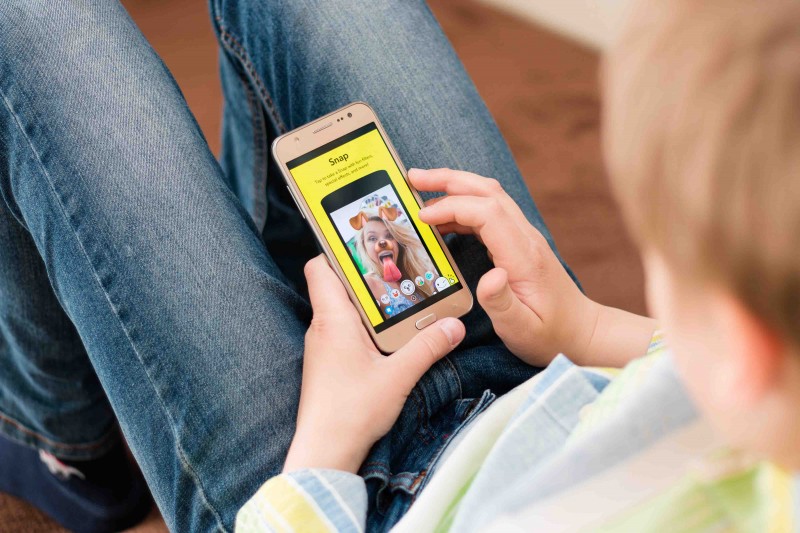 The aim is to create a worry-free, low-pressure environment where people can share fun or silly stuff without consequence since it won't stay around for long.
What's the minimum age for Snapchat?
Like all social networks, laws in countries such as the UK and the US have govern how old kids have to be before they can sign up for an account. This age varies, but in the UK and US it's 13.
Snapchat says that the service isn't "intended" for under 13s, but anyone can create an account simply by entering a fake birth date to get around the rules.
What are the risks of using Snapchat?
Because of the temporary nature of images and videos, a well-publicised use of the app is for 'sexting' or even pornography. Snapchat says most of its users don't do this and stick to the Community Guidelines, but under 18s could be tempted to snap and send an image they'd otherwise think twice about because they think it'll be gone in 30 seconds.
However, Snapchat doesn't prevent recipients from taking a screenshot or otherwise recording and saving the Snaps, at which point they can be shared with anyone via any means. It says it will warn the sender if the recipient has taken a screenshot, but understanding the possibility that their supposedly self-destructing photos could be saved and shared permanently is something that kids need to know about before using the app.
Another of Snapchat's features is to share a person's location. This is turned off by default when using the Snap Map feature, but posting to Our Story can mean the precise location of the photo or video can be made public. To avoid this, you should turn on Ghost Mode in the settings to prevent location sharing.
Because anyone can say anything via Snapchat, there's a risk your child could be bullied (or do the bullying) but that goes for any messaging app or service.
Of course, it's unwise to see Snapchat or any social media network as a 'safe place' without first talking to your child about the risks of using them and how to use them safely.
You should also set ground rules, and you can see our recommendations in our in-depth guide to keeping kids safe online. Some of these should include making sure your child only communicates with people they know, and doesn't ever share personal information via the service such as their address or phone number.
Many kids use Snapchat rather than Facebook or another service precisely because their parents don't, and like any password-protected account, you as the parent will have no access to your child's Snapchat account unless they tell you that password or hand you a logged-in device.
You can set up a Snapchat account yourself, but there are no parent-and-child account features that allow you to keep an eye on what they're posting.
Our recommendation is that, if you're going to allow younger kids to use the app, you create the account yourself then set a password that only you know. You can change the settings to the level of privacy you want, add the friends they can chat to and generally keep an eye on what they're posting and saying.
If you do want full control, Snapchat is not the best option. One alternative is to allow your child (under 13) to communicate with their friends using iMessage (on Apple devices) or Whatsapp on your own phone.
That way the conversation history is plain to see and, if they've nothing to hide, there shouldn't be any reason why they won't accept the method.