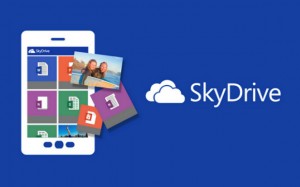 Microsoft has launched a SkyDrive app for Android devices after releasing a similar app for iOS devices in December. Just like SkyDrive for iOS, the new Android app allows you to view your documents and photos saved to Microsoft's cloud storage service, share files or folders via e-mail, upload images and videos to SkyDrive, and open SkyDrive files in other apps.
SkyDrive for Android is designed to work best with smartphones and tablets running Android 4.0, Ice Cream Sandwich, Microsoft says, but the app will work with any device running Android 2.3, Gingerbread, or higher.
Start screen
Similar to the iOS app, the SkyDrive start screen in Android features an alphabetical listing of all your folders and documents saved to the root of your SkyDrive. Each folder icon includes a number on it telling you how many files are contained within a given folder. At the top of the screen there is also a dropdown menu that lets you move quickly between the main SkyDrive menu, your recent documents, and documents others have shared with you.
At the bottom of the screen is a navigation bar with options for viewing files and folders in a list or icon grid, uploading new files, creating a new folder, and a refresh button.
Viewing files
As you would expect, you can just tap on a file to view it, but in my tests on a Nexus One running Android 2.3, SkyDrive handled files differently depending on their type. When I wanted to view an image, for example, I was able to view it within the SkyDrive app. But SkyDrive did not behave the same way when it came to documents. I could only download documents if my phone had an app capable of editing or viewing that file. A Word document, for example, required an app such as Documents To Go from Dataviz. That's a very different situation than on the iPhone, which lets you view almost any document type before moving the file to a different app.
Sharing files
SkyDrive for Android includes a share option so you can send a link to a file or folder via e-mail. The fastest way to share items is to have your SkyDrive items in list view; you should see a checkbox to the left of each item. Tap the check box for the item you want to share and then click the link icon at the bottom of the screen. A pop-up window will appear asking you whether you want to allow the recipient "View only" or "View and edit" permissions. Then the app will let you share the link through other apps on your device such as Dropbox, Facebook, Google+, Gmail, Messaging and Twitter.
Beyond viewing, downloading, and sharing files you can also upload multiple videos and photos at once, delete folders and files from SkyDrive in batches (using the list view check boxes), and create new folders.