Saeed Ahmad, Managing Director, Middle East, and North Africa, Callsign explains how digital trust can boost our economies and why identity is at the heart of this process.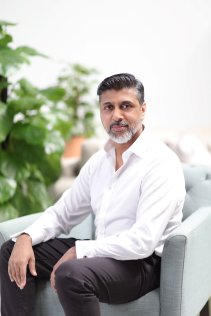 The digital age has arrived. In a decade defined by a worldwide pandemic, climate change, and tumultuous geopolitical relations, our digital revolution is one of the twenty-first century's few certainties.
The importance of trust cannot be understated as we rethink our economies for the digital era. We have reached a tipping point in society where the impact of digital is now quantifiable. According to Callsign's recent report, The Digital Trust Index: The Value of Digital Trust, hundreds of billions of dollars could be released into our economies by strengthening digital trust, and digital is now so pervasive in our lives that our digital interactions influence our levels of societal trust too.
However, we can only have digital trust if we know who we're engaging with online. The proliferation of cybercrime has eroded confidence in online business and services, the result is less economic confidence in the digital economy. With the current economic headwinds, we urgently need to address the digital trust issue.
Trust is fundamental to building digital ecosystems
As economies migrated online, it was expected that the inherent trust that exists in the physical world, due to the fact that we can see and identify our counterparts, would be replicated in the digital realm. However, this is not the case, and we now need to establish digital trust. Digital trust is the belief that we are communicating with real people as opposed to bots or people posing as someone else. It is also our belief that the systems on which we rely are secure, trustworthy, and privacy-protecting. It comes down to ethics, fairness, and inclusivity. When we utilize digital products and services, we reaffirm our trust in them and the entire ecosystem surrounding them.
While trust is an abstract concept, it is critical to developing a stronger digital ecosystem. Individuals will only communicate online if they know whom we are interacting with online and if the technology and techniques used are secure and ethical. If enough of us lose faith in online services, major sectors of the global economy and, thus, society will start to break down.
According to the World Bank, the digital economy accounts for more than 15% of global GDP and has grown at double the rate of physical world GDP over the last decade. However, if we cannot carry out trade or civic obligations online due to a lack of confidence, we take a step backward. Physical location and size become economic advantages where digital advancements have broken down barriers to entry, levelled the playing field, and driven the inclusion of previously excluded communities. The Digital Trust Index: The Value of Digital Trust report assessed the missed opportunity caused by a lack of digital trust. We discovered that a 5% improvement in digital trust could results in a $3000 boost in GDP per capita. This indicates that we can significantly impact the global economy in terms of GDP per capita. A seemingly minor gain in digital trust can have a considerable positive influence on the global digital economy.
But what effect does the scarcity of digital trust have? The digital industry was predicted to be worth $14.5 trillion in 2021, but the estimated worldwide cost of cybercrime was $6 trillion, or 41% of the digital economy. Alarmingly, it is estimated that by 2025, the digital economy will be worth $20.8 trillion, whereas cybercrime will be worth $10.5 trillion. So, despite the growing value of the digital economy, cybercrime will rise faster and account for half of the digital economy by 2025.
Identity key to building digital trust
Identity must serve as the foundation for building digital trust and, by extension, our global digital economy. But how can consumers establish trust in a digital world if they do not know whether they are dealing with their bank, a fraudster, or a real person on social media? Nearly half of the consumers surveyed expect governments to make the digital world more secure. To that end, 77% of MEA respondents expressed interest in the development of a digital identity system overseen by an independent agency. MEA Consumers also said they would most trust banks and financial services organizations (30%) to build and maintain an identity system.
Digital trust can boost our economies
Higher GDP generally results in better outcomes, not only for private citizens' earning potential, but also for governments' ability to provide public services such as education, health care, and other social assistance programs. Given the current global economic challenges, with the possibility of current economies contracting and the cost of living continuing to rise, a glimpse of what digital trust has the potential to deliver is sufficient to demonstrate why digital identity must be front and center for the global economy.