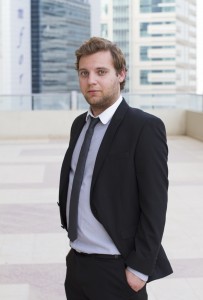 Seeing as I'm a gadget fan, you can imagine that I was like a kid in a toy shop at the recent DISTREE Middle East show. The consumer electronics retail event always provides a good insight into what new electronic goodies are set to hit the shops soon, and 2013's edition didn't disappoint. 
Among all the speaker systems, wireless headsets and third-party PlayStation controllers, though, one thing in particular caught my eye. It was a 3D printer from Cubify, and it was being shown off by distributor Pro Technology.
We've all read about how 3D printing is set to change the manufacturing scene, but the technology has so far been too expensive or complex to make any real impact. Yes, there are nutters in the United States making 3D-printed guns, but for the most part, the manufacturing industry hasn't really felt the effects of the technology, particularly in the Middle East.
Cubify hopes to change that with its two consumer-centric 3D printers, the Cube and the CubeX. Essentially, they're plug-and-play devices—anyone could hook the printer up to a computer and then print out a 3D file. What's more, they're way cheaper than you'd expect—the Cube is priced at around $1,300, and the CubeX will go for around $3,000 when it hits the region in the next couple of months.
Pro Technology is hoping to gain a foothold in the market early on with this technology, according to Ribi Kenneth, Manager, Retail Distribution Division, Pro Technology, who explained a little bit about the Cube to me.
"There are a lot of hobbyists who buy this. But we're also tying up with retailers, so that customers can go into stores give their names, and have their names printed into an iPhone case—it's like a service," he said.
To be honest, that plan is little gimmicky, and it's certainly not a massive revenue-driver. However, Kenneth told me that he's anticipating all kinds of use-cases for the more powerful CubeX (the Cube is much too slow to be used in any professional capacity). He wants to target dental practices so that they can print out their own dentures, or else university science labs that want to print out bone models.
Previously, 3D printers capable of these functions went for tens of thousands of dollars. But the technology is evolving quickly, and it'll soon be available for much less than you might think.
But why am I banging on about 3D printing? Well, in my opinion, this technology opens up what could potentially be a massive revenue stream for the channel. Customers in pretty much every vertical could find 3D printing useful. Are you doing the systems integration for an architecture firm? Chuck in a 3D printer. Are you selling a university a new virtual desktop solution? Chuck in 10 3D printers. If the price is right, and the functionality is there, I'm sure they'll bite.
Pro Technology is right to get into this technology early, but we needn't stop at the consumer-focused 3D printers. As the tech becomes cheaper, a host of mid- to high-end 3D printers will suddenly become accessible for enterprises (small, medium and large). And the first one in on that action is going to make a lot of money indeed.