After the digital transformation that happened worldwide because of the global pandemic, many companies have looked at implementing conversational engagement technology, such as chatbots, to increase productivity and meet the demands of their customers. Deputy Editor at tahawultech.com Veronica Martin takes a closer look at the topic.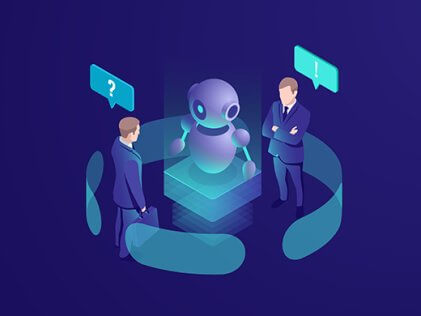 In its current form, artificial intelligence is still not smart enough to provide every answer or find every solution. However, chatbots are becoming more human-like thanks to developments in Internet-connected devices and clever algorithms. They are capable of comprehending spoken language, giving logical responses in return, and even picking up on human discussions to get a better understanding of us.
It is now possible to modify chatbots to meet a brand and business plan. You can design a chatbot that captures the essence of your company and gives customers the impression that they are interacting with real people by using a little imagination and creativity. They can be trained to perform certain activities in accordance with the demands of a company's operations and programmed with a brand's distinct personality. In order to become more effective over time, they can even draw lessons from earlier interactions with clients.
Furthermore, chatbots are accessible around-the-clock, so there's no need to pass up possible sales opportunities because you are unavailable at particular times of the day. You can relax knowing that a chatbot that is knowledgeable about your goods and services will always respond promptly to any queries your clients may have.
Chatbots have revolutionized many industries, such as hospitality where many businesses are using them as digital concierges. As guests demand 24-hour service and hoteliers are pressed for time, chatbots are becoming more essential due to less staff. The Stayntouch/NYU Tisch Centre of Hospitality Report predicts that by the end of 2022, 29.2% of hotels will have chatbots available on their websites, up from 14.5% in 2019. Aloft Hotels, a division of Marriott International, has developed ChatBotlr to let customers make requests through their mobile phones, such as getting amenity deliveries or early morning wake-up calls.
You can receive a response instantly without contacting the front desk thanks to the integration of chatbots into a hotel property management system. If online payment is possible, you could speed up the checkout procedure and avoid standing in line again, as well as get recommendations for goods or services as you converse with a virtual concierge using a targeted and individualized sales procedure.
All interaction data can be stored by virtual concierges, which can help you better understand your guests' demands, provide a better guest experience, and boost hotel revenue. On top, customers will more likely want to repeat the experience and will not mind spending a little bit more if they feel like they are receiving the best attention and individualized treatment.
Some of the most famous hotels in the world are already using chatbots with great results. The Cosmopolitan Hotel at Las Vegas uses a chatbot called Rose that converses with guests and keeps them engaged on the website. Some of Rose's main features include interacting with visitors, giving customers the details about the hotel, assisting them with the reservation and stay and suggesting activities, causing them to spend more at the hotel.
Another example is Velma, an AI-powered chatbot used at Zafiro Hotel in Madrid that can easily handle 80% of guest requests in more than 20 languages, generate leads by sending an instant notification to the sales team, and develop maximum engagement with guests by sharing the best available deals and offers.
However, brands must perfect their omnichannel consumer conversational engagement experiences and should constantly improve the conversational skills of their omnichannel chatbots.
Conversational capabilities and the chatbot's capacity to manage multi-turn discussions with all the depth and empathy a human agent gives are crucial to converting visitors into paying clients. The AI chatbots must be trained continuously in natural language processing (NLP) and data management in order to provide an accurate and timely answer.
In every conversation, they must also pinpoint the demands of the customer and gain deeper insights. Chatbots can be programmed to recognize unseen demand signals, analyse them, and suggest the best course of action, assisting brands in promoting better engagement and proactive communication.
Intelligent chatbots driven by AI may soon be able to accurately predict customer purchasing trends, enable intent recognition, and make conversational flows more human. Most of brands will soon be able to provide chatbots to serve as their customers' personal digital assistants.
Besides, AI chatbots can automatically gather non-personal data about customer behaviour, such as the time of day, what they were looking for (through clicks and questions), how long they spent in the chatbot, the most popular information cards and questions, the forms that were sent, how often and from where (city), and other general information. Businesses can improve current products and services and create new ones based on customer searches in the chatbot by analysing this data to better understand their clients and give them exactly what they want.
There is no denying the growing popularity of chatbots. For both brands and their front-line/customer-facing workers, chatbots are a powerful tool for customer interaction. They are also a terrific way to make sure that business keep up with the most recent innovations to stay competitive in the modern world of customer care.
By offering quick access to information and support, they have the potential to enhance customer service. Most importantly, chatbots are swiftly establishing themselves as trustworthy tools for consumers and organizations to complete tasks more quickly and efficiently, giving us more time to focus on the things that are essential to us.
In our digital age, chatbots are very significant and they represent a fresh marketing approach for hotels. Any platform that gives visitors access to hotel information, including websites and social media, should have a chatbot, so it's time to install a chatbot if you don't already have one.