In an exclusive interview, Security Advisor ME sat down with Bitdefender's recently appointed regional director for the Middle East, Tarek Kuzbari to discuss his vision for the region and what he thinks will be the future of the security landscape.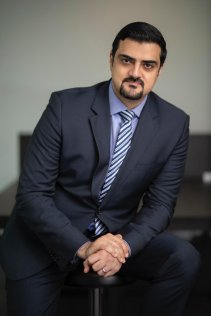 Please give an overview of Bitdefender's operations and its vision for the region.
Bitdefender has been in the cybersecurity business for the past 19 years. We have a presence across European markets as well as other international offices.
As for our Middle East operations, we are based here in Dubai where we cover countries in the GCC and Levant regions. We have been doing business in the region for almost 10 years now. Over that period, our operations have evolved through different phases from providing cybersecurity solutions and expertise to consumer clients to small and medium businesses and now the enterprise segment.
Previously, a big focus of Bitdefender's business has been endpoint protection – everything from encryption, patch management, traditional and next-gen anti-virus, and endpoint detection and response. Today, we now also have a variety of network security offerings solutions including Network Traffic Security Analytics, on-prem sandboxing, threat intelligence solutions and many more.
Having recently taken on the reins of Bitdefender's regional business, what is the primary focus of your role?
I will be focusing on growing our enterprise business here in the Middle East. My aim is to ensure that our on-ground teams are well-equipped with the capabilities to deliver our enterprise solutions to the market. The key verticals that our enterprise segment will centre on include the government, finance, telco, manufacturing and healthcare sectors.
Our ultimate goal has always been to develop a premium cybersecurity solution in the market. To date, we have over 150 technology partners that use our products including FireEye, Fidelis and Ivanti among others. These organisations licence a portion of our technology and integrate them with some of their offerings.
In addition, with a 100 percent channel-driven go-to-market strategy in the region, a key focus of my role will be leading efforts around expanding Bitdefender's channel ecosystem.
The cybersecurity industry is constantly evolving especially as organisations seek to stay ahead of the bad guys. How do you think have attitudes and views around security evolved over the last couple of years?
So, there are different aspects to that. Firstly, there is the philosophy of cybersecurity. In the past, we typically see cybersecurity leaders and business decision-makers acquiring the latest tools hoping there will be no security issues once they implement them within the organisation. This was the approach in the past. Deploy security technologies for your endpoints, implement firewalls and just wait and see.
However, over time this has evolved as security teams adopt the assumption-of-breach security model. The assumption of a breach encourages organisations to take a proactive approach to security. They need to assume that there is already someone in their network and the job of the cybersecurity team is to look for clues, identify vulnerabilities and close those gaps or address the problems that cybercriminals may have caused upon penetrating the company's IT systems.
The emergence of new technologies around machine learning, big data and cloud have also impacted the industry. These technologies are now being leveraged by cybersecurity vendors to enhance their solutions.
As cybersecurity increasingly becomes embedded into the latest technologies, how are you innovating to keep your offerings future-proof?
Unfortunately, there is no 'future-proof' cybersecurity solution. The reality is, we need to be continuously developing, evolving and innovating to be at least one step ahead of the cybercriminal. This is why we're continuously evolving our solutions.
We believe that ensuring end-users can adopt a holistic solution stack of security tools is a vital step in helping them stay secure. That's why we're continuously working towards the seamless integration of our products with other security tools in the market. Moreover, increased collaboration within the industry provides end-users with the opportunity to access top security tools and manage everything in a single console.
The growing sophistication of cyber-attacks are causing a lot of strain to today's security teams, what do you think are the most critical steps they need to take to ensure that their incident response strategies are effective?
It's a combination of having the right people, processes and tools. Firstly, there should be ample awareness and training within the workplace in terms of responding to security incidents. Secondly, the right processes should be set in place to ensure that accurate data is collected to enable security teams make correct assessments and decisions.
Finally, tools or technologies. There is no one-size-fits-all when it comes to buying security tools, therefore, it is vital for an organisation to ensure that they evaluate their security postures before making a purchase.
When it comes to threat detection and response, understanding network behaviour is essential. Can you please explain how Network Traffic Analytics enhances security?
Network traffic analytics (NTA), originally coined by Gartner, is as old as the invention of networking itself. It involves the process of intercepting, recording and analysing network traffic patterns to detect and respond to security threats.
However, NTA has now evolved to a completely different level with the integration of machine learning, artificial intelligence (AI) and behavioural analytics technologies as well as threat intelligence. Combining these elements with NTA enables security teams to gain better visibility on their networks. This provides them with the capability to monitor any device within the network and see what kind of traffic is going in and out from various endpoints.
NTA also allows them to conduct tailed analyses on the different types of threats in their network, which gives them the right data to prioritise risks.
For example, our solution – the Bitdefender Network Traffic Security Analytics (NTSA) – relies on semi-supervised machine learning to provide real-time and accurate threat detection. It identifies key patterns and trends in live data flows without the need for human input. Instead of fully relying on the knowledge of specific past threats, it independently classifies data and detects patterns. It then uses an algorithm using machine learning to reduce false positives and generate more accurate insights for the cybersecurity teams. NTSA also allows security teams to prioritise the risks and alerts, thereby saving time and resources.
I believe that NTA will be the next big thing in the cybersecurity space. There is a significant growth value for this segment. However, there are still a lot of discussions needed within the industry regarding the quality, reliability, and innovations around this technology.
What are Bitdefender's initiatives in terms of helping organisations realise the potential of NTA technologies?
We offer our customer free Proof-of-Value (POV) where we showcase the value of our product by implementing the solution within their networks, so they can have the first-hand experience of its benefits. We believe this is the most effective way of communicating the value of this product. Since it's a relatively new product, most people don't have the right perception of what it is and how it works. Some people believe it's a replacement to firewalls and others think it's an alternative to Intrusion Detection Systems (IDS). But, in fact, it's more of a complementary solution for both as it's aimed at providing visibility on the blind spots within the network.
What can the market expect from Bitdefender this year?
This year we will focus on three key pillars – customer awareness, channel expansion and brand recognition.
For customer awareness, we want to put a focus on educating our customers with our capabilities and the different products and technologies that we offer. We want to effectively communicate how our solutions can add value to their business.
On the channel side, we are looking to recruit more specialised partners in the cybersecurity, managed services and managed security services fields. We plan to invest more in supporting our channel partners through enablement initiatives, lead generation and marketing activities.
Finally, we will also be focusing on brand recognition. We have an aggressive strategy to increase awareness about Bitdefender across various markets in the region. A big part of which is taking part in roadshows with our partners as well as in top industry events such as GITEX.
And as a final message, what do you think will be the future of the cybersecurity industry?
I think from a threat perspective the landscape will grow in complexity. The number of attacks will continue to increase in volume and sophistication as the bad guys optimise the same advanced technologies – AI and machine learning – that security players adopt. I think that will make security more challenging. So, we all have to be prepared for that.
The good news is we can expect a lot of innovations from the security market's side. Many new startups are appearing and are coming up with new solutions to address today's emerging security challenges. In addition, many established vendors are also introducing new out-of-the-box innovations. It's a dynamic market with growing segments. People still consider it among the top three priorities when it comes to technology spending.
Ultimately, while we may see a lot of challenges in the threat landscape, we can also expect new opportunities for innovation.