CNME Editor Mark Forker managed to secure an exclusive interview with Olivier Jouve, Chief Product Officer at Genesys, to find out how the company is transforming the contact centre experience to create 'super agents' – the role generative AI is playing in powering better experience orchestration for employees and customers.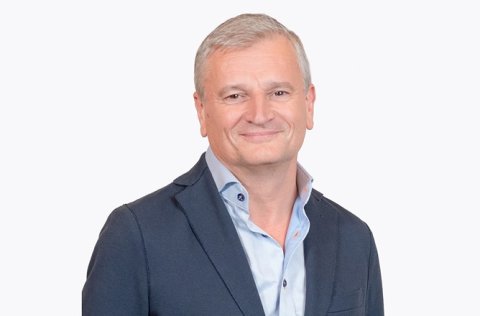 Olivier Jouve is one of the most respected leaders within the IT and tech ecosystem when it comes to artificial intelligence.
In his capacity as the Chief Product Officer at Genesys,  Jouve leads the company's product, artificial intelligence and digital teams to help organizations orchestrate billions of remarkable customer experiences for organisations all over the world.
In a candid exchange with CNME, the charismatic Frenchman said the company's vision was to drive empathetic customer experiences at scale.
Our first port of call during our conversation was the transformation of the much-maligned contact centre space.
Jouve warned that businesses cannot afford poor customer experiences in the new experience economy.
"At Genesys, we firmly believe that the contact centre is going to yield huge benefits from all the advancements being made in generative AI. The contact centre provides you with critical data from your customers, so you've got to be able to leverage that data to drive a better digital experience. We know that from multiple reports and surveys that have been commissioned if a consumer has a 'bad experience' with a brand then it is very likely they won't use that company again, so it's imperative that you deliver a seamless digital experience," said Jouve.
Jouve said that the contact centre was a very special space because it was the only system in the entire ecosystem between sales, service and marketing where the truth is fleshed out.
"If an agent comes up with the right information, then it gives them the opportunity to cross-sell, up-sell, or retain the customer. No other system provides you with that opportunity. The contact centre has all the information on the customer, but it also has the ability to influence the customer and that makes it special and unique," said Jouve.
Jouve rejected the idea that AI will replace agents in contact centres, he believes it will empower them to be more effective, efficient and empathetic in their job.
"AI is everywhere in everything that we do. I don't have a single component in my solution stacks that doesn't have AI. I believe that AI is a way to solve problems that we couldn't solve before. Our focus is experience orchestration, and AI helps us achieve that. It is not necessarily replacing people, but instead it's turning agents into 'super-agents, because you are equipping them with the right tools in real-time to do the job they need to do. We believe that the core value of an agent is empathy, and by providing them with access to the information they need then we are empowering them to be empathetic," said Jouve.
Jouve also added that it is become increasingly clear that more and more people value the experience more than the product.
"You need to free your agents from the archaic processes of the past to deliver the experience that the customer not only wants, but expects. The reason someone is reaching out to a contact centre is because something has failed. They are not ringing to tell the agent that they are super happy with the brand, they have a problem and they want it resolved instantly, and you have to give agents the best tools to deliver the experience the end-user is demanding," said Jouve.
Jouve believes that the hardest part of the transformation for contact centres has not been around technology, but instead has been about their readiness to be transformed.
But what does that mean?
"What that essentially means is you can't do a lift and shift on what you have. If you do a lift and shift from an old clunky on-prem environment and you go to cloud with the same thing — it won't work. Because if you think about how you delivered customer experiences in the past, it was pretty bad. Do you really want to do the same thing? It's all about rethinking the type of experience that you want to deliver – and you can do that by leveraging all the features that come with the cloud. The cloud gives you the agility you need to really drive a new experience. I think once people understand that, it's going to be much simpler for them to transform," said Jouve.
Jouve highlighted the appetite that Genesys has for innovation, by revealing that they deliver new features every single week – and that last year alone the company delivered over 350 new features in their cloud.
He outlined how each industry differs in terms of how digital they need to go to deliver the experience their end-users expect.
"Some industries are going to go much deeper digitally because that's the type of interactions that their customers want. However, some industries are different. Take for example, healthcare versus hospitality – they don't provide the same experience. At Genesys, we have nearly 5,000 customers that use our cloud, and we learn from every single experience. We have 35 million experiences happening every single day through our cloud platform, and we learn from that to drive the experiences that our customers are striving to achieve," said Jouve.
In terms of their innovation roadmap, Genesys is very transparent with customers about future innovation and encourages their collaboration to provide feedback and input to ensure they are positioned to continuously evolve and strengthen their customer and employee experiences.
The Chief Product Officer at Genesys believes it's the fact they are cloud-native that really differentiates Genesys from their market competitors,
"One of the key benefits that we bring to the table is the fact that we were born in the cloud. We are 100% cloud native. There is nothing that we have developed that comes from an older on-prem environment. A lot of our market competitors don't have this ability to be flexible and agile when developing new products or solutions, or adding new features and capabilities to existing ones," said Jouve.
Generative AI, OpenAI and ChatGPT has been dominating conversations across the tech landscape over the last few months.
However, some prominent business and political leaders have called for the technology to be slowed down, a position that Jouve can't comprehend.
"I love generative AI from the sense that it is going to completely change everything that we do. Now is not the time to slow down the development of generative AI – we need to embrace it. And, we need regulation to ensure responsible development and use. From a Genesys perspective, we are always very ethical when it comes to how we use our customers data and how we deploy AI models. For example, we don't use any data that we are not authorised to use, and we also anonymise everything." said Jouve.
Jouve shared that Genesys has accelerated its development of AI over the last few years.
"In terms of generative AI, we delivered our first product in 2020, and the way we do sentiment analysis is based on large language models. This isn't something we just started with the onset of ChatGPT. Large language models have been around for several years, but now they are more powerful because a lot of people have invested money in it, smart people are working on it, and we are building the ecosystem around it. That's why we felt the time was right to accelerate our development of new use-cases. I have a team of 350 people that are fully focused on digital and AI, because quite simply – it's the future – and it's going to change how we do everything," said Jouve.
He concluded a wonderful conversation by reiterating the commitment being made by Genesys across the Middle East, and announced an exciting new partnership with Amazon Web Services in Dubai.
"I see the Middle East as an incredible opportunity for us. I was in Riyadh and the sheer scale of transformation is incredible. We have a solid footprint in the region. We've been here for over 20 years, and we have over 200+ customers. I believe so much in this market that we are going to deploy Genesys Cloud in AWS, in Dubai, by the end of 2023. That means that we will provide data residency to all our customers connecting to the cloud here instead of connecting to a cloud in Europe. That's a big commitment to the region and we believe that this will be a real gamechanger for us," concluded Jouve.