Emirates is providing an immersive cinematic experience in its lounges in Dubai International Airport by providing Skylights theatre headsets to customers.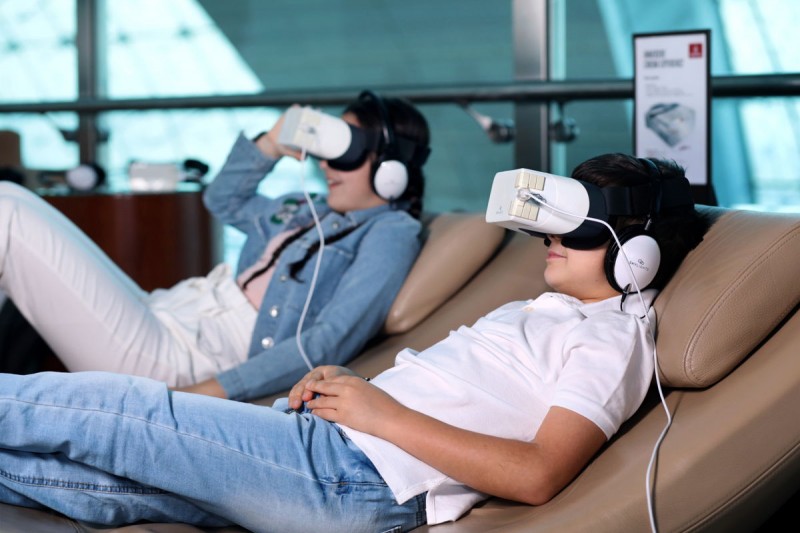 According to the airline, the headsets are being trialled in the Business Class lounge in Concourse B for the month of April and in the First Class lounge in concourse B in May.
The introduction of these innovative new headsets is part of Emirates' continued commitment to improve the customer experience both on the ground and in flight. Offering a fixed-screen with a wide-angle field of view for 3D and 2D content, each Skylight theatre headset weighs only 120g and offers a Full HD viewing experience.
The theatre combines in-built sound and video to allow customers to fully immerse themselves in what they are watching.
Emirates used a mix of content, which includes 3D & 2D movies, box sets, documentaries and 360-degree videos.
Movies include Alien: Covenant; Batman vs Superman: Dawn of Justice; and Boss Baby, as well as episodes of documentaries such as Cosmos and Planet Earth. The service is complimentary and Emirates plans to roll out the experience across all its lounges in Dubai if the trial is well received.
Dubai International Airport is home to seven Emirates lounges spread over three concourses – A, B and C. In each of the concourses there is a dedicated Emirates First Class and Business Class lounge. Entry is complimentary for those travelling in Business or First Class as well as Emirates Skywards Silver, Gold and Platinum members. Emirates Skywards Blue members can visit the lounge for a fee.
Recently the airline marked a milestone, celebrating the 10th-year of being the first commercial flight to allow customers to make and receive calls, as well as send SMS messages from their own mobile phones.