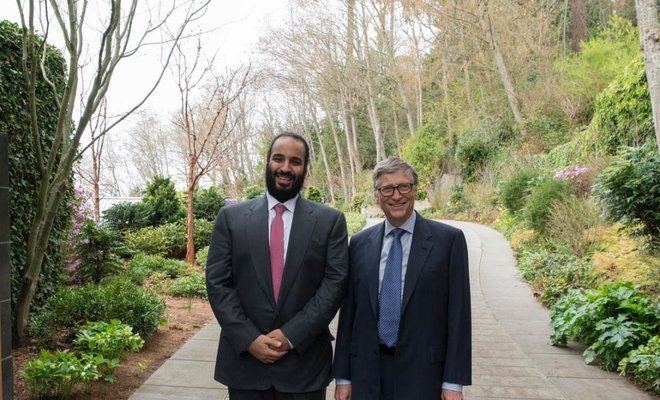 Saudi Arabia's crown prince Mohammed bin Salman has completed meetings with a selection of the world's most prominent technology executives in Seattle as part of his official visit to the United States.  
During his visit, the crown prince met individually with Microsoft co-founder Bill Gates and CEO Satya Nadella, and Amazon CEO Jeff Bezos.
The Crown Prince had a "friendly and productive discussion" with Gates on a range of topics, including opportunities for future programs and philanthropy related to global health and social development, according to the Royal Embassy of Saudi Arabia.
In his meeting with Bezos, he discussed various areas of cooperation around technology, focused on future prospects for partnership, in light of the Kingdom's Vision 2030 development goals, the Embassy said.
During the meeting with Nadella, the crown prince examined the importance of science and technology in Vision 2030 and areas of possible future cooperation with Microsoft.
The trip to the US has been Mohammed bin Salman's second in three years, and has been widely expected to increase Saudi Arabia's involvement with the global tech industry, following its $3.5 billion investment in Uber, that made it the largest foreign investor in the ride-hailing app at the time, its $45 billion investment into SoftBank's technology Vision Fund.
A $1 billion deal with Amazon Web Services for three data centres in the Kingdom has been touted to be completed, while an Alphabet-Saudi Aramco deal for "enterprise-based" data centres, which could comprise a publicly-traded venture, could also be finalised.
There are still many details to work out in the deals, and it is unclear when – or whether – such a deal will be finalised, sources say.
Saudi Arabia's government is also reportedly exploring the possibility of a partnership with Facebook to deliver an online anti-radicalism platform.
"A lot of the knowledge that Saudi Arabia needs to turbo-charge its Vision 2030 ambitions resides within the world's largest tech companies, who are custodians of many international best practices," Sam Blatteis, co-founder and CEO of UAE-based policy consulting firm The MENA Catalysts, said. "Saudi Arabia's knowledge economy plans hinge on access to connectivity, and a key way to indigenise the human capital needed to power these plans is to equip youth with critical ICT skills. Teaming up with some of the world's coolest technology companies that can bring academic topics to life better than any textbook is the best way to popularise and socialise key ICT skills."
Experts understand that Amazon has identified Saudi Arabia as an increasingly important emerging market, and is looking to expand in the Middle East. The firm completed its $600 million acquisition of Souq.com last year, as well as opening its MENA hub in Dubai for cloud division Amazon Web Services.