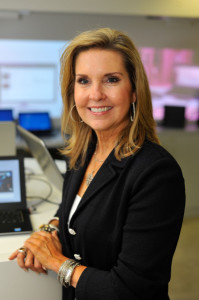 Dell is now a private company. And that's good news for the channel, says Cheryl Cook, VP of Global Alliances and Channel at Dell.  In an exclusive interview with Reseller Middle East, she reveals how the company plans to ramp up the partner eco-system.
What's changed since you went private?
There is a real focus on the customer. And inside the company, there is renewed excitement and enthusiasm coupled with positive momentum in our business. It's liberated our team from unnecessary distractions and management rigour to stay focused on execution of what really matters to our customers.
What does it mean for the channel? Is it much easier to do business with Dell now?
I can confidently say that the enthusiasm we feel within the company is cascading into our partner environment. Their business is prospering and we are seeing a good adoption of our portfolio, be it clients, software or enterprise server business.
Earlier this year, Dell has announced the plans to transfer 200,000 Dell Direct accounts into the hands of partners. Do you have any numbers on how many of those accounts have been transferred so far?
I don't have the exact numbers but what we do see is really good results in the growth of the business. We are expanding with our partner community to increase reach and coverage in the market and we have seen positive results in the number of new customers. Our expansion into strategic areas of focus such as enterprise offerings and data centre solutions is growing at a brisk rate.
Are these accounts existing business or just prospective accounts of the company?
It's both; some are new acquisitions and some are expanding our reach within the existing accounts. Within our partner community, we have lines of business deal registrations, which is growing by 35 percent.
Are you going to discontinue Dell Direct?
No, we have an omni-channel approach. We have customers that want to continue to interface and transact with us directly, we have a robust online presence and we have traditional indirect channel business, whether that is through two-tier distribution or partner reseller networks. We will still do business with customers and we advocate customer choice and partner choice.
So your primary route to market will be threefold – Dell-led, partner-led and distribution-led?
Exactly. We are going to be smarter because if you look at how broad Dell portfolio is now, the total addressable market that we can compete is much broader than it was. We want to maximise our coverage and reach into that market potential.
How do you ensure your partners aren't competing with your sales team for deals?
We have a deal registration process, which has served well, and most of the feedback from our partners is that it is easy to navigate and well understood. We are also going to be more predictable and collaborative with our partner community on sharing where we are going to make investments in our direct coverage, and where we want to team and work with them to expand coverage in channel-led geographies.
How much of your business is generated by the channel?
On a global basis, it's about 35 percent.
Will that change over the next couple of years?
I don't cap what our potential growth can be. Where I am seeing advances for us is in the mix of our business. Our partners are uniquely positioned to help us expand into data centre, enterprise solutions as well as client business.
Will distribution have a crucial role to play?
I think so. We use distribution here in the UAE and on a global basis we are looking to expand distribution to expand our reach into certain markets. When you look at the way they can help us by way of partner coverage, reach, enablement and time to market, distribution will indeed play a crucial role in our business.
It's been six and half years since you launched your programme. Have you been able to win the trust of the channel, given the fact that Dell has its roots in direct sales model?
I think its improving every day and every year. There might have been some questions in the early days, but if you look at the scale of our business, how much of our business is done through the channel already, we have really demonstrated that we want to make sure our partners reap rich rewards and we have made good strides towards a predictable channel engagement.
Dell has made many acquisitions over the last seven years or so. Is your partner programme a patch work of disparate programmes of these companies you have snapped up?
Even with a relatively new partner programme, from the bottom up we have been able to take the best attributes and characteristics of all those programmes and unify it into a comprehensive and simplified partner engagement model. One thing I am committed to is maintaining the simplicity of navigating our partner programme.
Have you identified any growth areas that Dell is going to focus on?
We are focused on end-to-end solutions. If you look at the trends in the marketplace, cloud, mobility, security, and virtualisation will be predominant areas of focus for us. We are seeing good adoption among partner community on understanding those natural affinities and adjacencies. If you are an infrastructure partner, it makes to bundle data protection with storage pursuits or security solutions with networking sales.
A major chunk of your revenues still come from PC business. Is Dell still committed to that business?
We have a very strong PC business and remain very committed. The PC business is growing faster and it gives us scale and leverage in our business and supply chain; it helps us provide end-to-end nature of solutions that customers are demanding.
Are you going to incentivise partners who make multi-product sales?
We want to make sure that we are worth the investments partners make with us. We will continue to offer lucrative rebates for partners who are strategically aligned to our goals and invest in competencies and certifications to deliver better customer experience.
Will the focus be more on top-tier, certified partners?
That's not the only place where we are going to focus but one thing I have been really delighted about is that as we continue to bring partners into our ecosystem, the number of partners that are achieving certification to step into premier and preferred levels is increasing dramatically. Between Q1 and Q2 this year, we had 700 partners achieve certification and the number of certified partner community globally is well over 4200 now. This shows the number of partners who are willing to strategically align and build out skills and capabilities around our intellectual property is on an upswing.