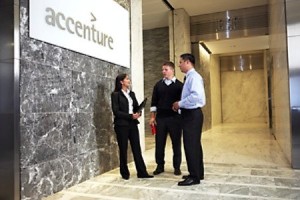 The convergence of social media, mobile computing, analytics and the cloud is transforming the way businesses operate, and companies that adopt available technologies to "go digital" will be better positioned to take advantage of rapidly shifting business opportunities and leap ahead of the competition, according to a new report by Accenture.
The Accenture Technology Vision 2013 report finds that because technology has become core to virtually every aspect of a business, every business is a digital business and that all senior leaders — not just CIOs — must be able to understand, embrace and drive value from new technologies that affect their organisation. Today's software, for example, has the potential to change the very business model of a company or industry in the future, according to the report.
"Organisations and their leaders need to hit the reset button on how they use technology to drive market differentiation, deepen customer relationships, and deliver growth and profitability," said Paul Daugherty, Accenture's chief technology officer.  "Our latest Technology Vision report finds that the technology for accomplishing these business goals is available today, but that adopting a new digital mindset is required to harness the potential. The power and reach of converging IT trends such as mobility and cloud means that business leaders need to understand the implications of a software-driven, 'connected everything' world."
The Accenture Technology Vision 2013 report looks at the future of enterprise IT and makes recommendations for how companies can take advantage of technology and software to improve their competitiveness, operations and business results. These include:
Leverage Technology to Create Digital Relationships at Scale : While technology gives organisations the ability to understand their customers better than ever, most enterprises are not taking full advantage of it to build deeper, richer relationships that can  improve customer loyalty significantly. While mobile computing, social networks and context-based services have increased connections with consumers, many companies have lost customer intimacy in the process. These connections have been viewed as another communication or transactional channel rather than opportunities to improve relationships.
"Businesses are at an inflection point enabled by new technologies that can take customer relationships beyond transactions and deliver more personalised interactions," said Daugherty. "Effectively developing meaningful relationships at scale requires a real change in how companies approach these strategies and implement a new unified approach across IT and the business."
Design for Analytics to Get the "Right" Data: Most of today's enterprise software applications are designed for a specific function and capture only the data needed to complete that function. Organisations use existing data as an input to make strategic decisions — and often find that information gaps arise because important questions weren't formulated when the applications were being designed.  As a result the relevant data isn't captured. What's needed is a strategy that sees data more as a supply chain than a warehouse. It's about asking the questions that need to be answered first and then designing applications for the "right" data. Companies that recognise this and make data a strategic asset that drives business outcomes will have an edge over those that view data merely as an output.
Take Advantage of Data "Velocity": In addition to data variety and volume, companies now need to consider the third 'V' of data — velocity.  Mobility and consumerisation of IT are driving expectations for faster access to data and more insights from that data. In addition, a surge of new technologies — including high-speed data storage, in-memory computing, analytics advances, data visualisation and streaming data querying — is accelerating the entire data cycle from insight to action and improving the enterprise's ability to deal with greater data velocity. As data becomes more widely used and companies see increasing competitive advantage from faster "data to insight," the data and analytical skills in an organisation also become more critical to converting insights to action before opportunities are lost.
Make Work and Processes More Social: The pervasiveness of Web-based social technologies like Facebook and Twitter and video tools like Skype and Google+ Hangouts has profoundly changed the way users communicate with one another. By embedding similar collaborative tools into their business processes, enterprises can take advantage of employees' growing comfort with social networks to gain a new level of productivity. Employees don't necessarily need to become more social for collaboration to work; rather, it's the work and processes that need to be more social.
Bridge the Last Mile of Virtualisation With Software-Defined Networking: Controlling the flow of information in today's digital business — where applications, systems, networks and communications channels are constantly changing — is one of the most challenging aspects of enterprise IT. While the virtualisation of servers, storage and other parts of IT infrastructure has resulted in unprecedented levels of flexibility, the network has been largely untouched by virtualisation until now. Software-defined networking (SDN), where the network is managed through software instead of through hardware, provides a giant leap forward in enterprise flexibility. With SDN, organisations can reconfigure the connectivity of systems without changing the physical characteristics — making it easier for businesses to manage change, integrate cloud services and get more return from their network investments.
Be Active — Not Just Defensive — With Security: Despite recent advances in security technology, safeguarding the digital business remains a challenge. The entry points for an attack are constantly expanding across more devices, more systems, more people and a broader infrastructure. As a result, optimal IT security needs to go further than prevention. Recognizing that attackers will get through, enterprises must stay one step ahead of them. IT's core challenge is to not only stay current with the latest in security, but to get smarter about understanding and engaging the enemy and be able to adapt the enterprise's defenses to match the threat. Security architectures need to remain flexible and incorporate "active" defenses to deal with the constantly changing field of security threats.
The Cloud Is Here – Now is the Time to Prepare the Enterprise:  Technologies underpinning cloud are pervasive and here to stay, and the benefits are numerous: helping companies differentiate their business, get their products and services to market faster, enhance operational efficiency, and respond more quickly to new opportunities and challenges. The question for enterprises isn't "why should we use cloud?" — but rather, "how should we use cloud?"  Many organisations are already embedding cloud with their legacy systems and traditional software to create "hybrid" environments.  This requires a clear understanding of, and approach to, the skills, architecture, governance and security required, whether it's the applications, platforms or IT infrastructure that's in the cloud.
"The challenge for businesses in today's digital landscape is to reimagine themselves in the context of an increasingly software-driven world," said Daugherty. "To succeed, organisations must leverage IT innovations to derive insights that enable them to optimise their enterprise, take advantage of emerging opportunities, strengthen customer loyalty, and deliver better business outcomes."