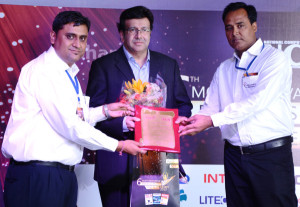 Simmtronics this week scooped a number of awards recognising its fast rising stature in the international tablet PC world, and capping an impressive season of achievements for its highly popular XPad tablet series.
Leading the achievements are the 2013 Frost & Sullivan Electronics Award for "Product Leadership of the Year" in the tablet PC industry, "Best Tablet Brand 2012" by Digital Terminal Award,  "Entrepreneur of the Year" in the Technology sector given at the 3rd Entrepreneur India Awards ceremony, and "Largest Tablet PC Manufacturer in India" by NCN.
Mr. Indrajit Sabharwal, Managing Director of Simmtronics, pointed out that the recent awards acknowledged the company's capability to manufacture and design low-cost tablet PCs for budget-conscious customers. "For as a relatively smaller Indian company with no external investors to have grown to become one of the world's fast-rising brands is truly inspiring," he said. "We are proud to have an incredible research base that leads to successful pioneering companies. Simmtronics is an excellent example of innovation and entrepreneurship."
"The Tablet PC world has witnessed several technological sophistications in recent times and we are pleased to be at the forefront of this trend," Sabharwal added. "Simmtronics also grew the fastest among its peers in the Indian market while continuing to push the envelope of innovation by expanding into new offerings."
The Frost & Sullivan "Product Leadership of the Year" Award is a tribute to Simmtronics for demonstrating product leadership by excelling in all stages of the product life cycle to ensure a continuous flow of improvements for the year 2012. Simmtronics' Android-based XPad series have witnessed a 200 percent growth in sales last year in comparison to that of 2011.
In addition, Indrajit Sabharwal was honoured with the "Entrepreneur of the Year" award in the technology sector at the 3rd Entrepreneur India Awards, one of the biggest conventions of its kind in the world.
Simmtronics also won the distinction of being the largest Tablet PC manufacturer in India, at the 6th NCN Awards Night held recently. The annual event honours the top achievers among India's leading vendors and channel partners and has been instrumental in opening the doors for Indian technology entrepreneurs to reach out to other markets across the globe.