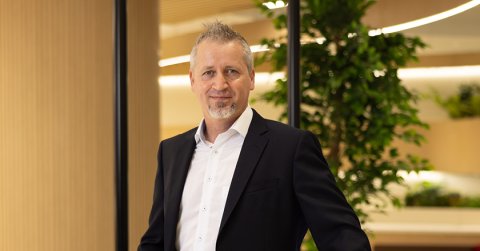 Help AG, the cybersecurity arm of e& enterprise (formerly known as Etisalat Digital) and the region's trusted security advisor, has won Frost & Sullivan's 2023 Middle Eastern Company of the Year Award in the digital forensics industry. The Company of the Year Award is Frost & Sullivan's top honour and recognises the market participant that exemplifies visionary innovation, market-leading performance, and unmatched customer care.
Applying a rigorous analytical process, Frost & Sullivan determined that Help AG excels in the following criteria in the digital forensics industry: addressing unmet needs, implementation of best practices, customer purchase experience, and brand equity.
The report notes that the company "is well-positioned with an industry-leading service that provides tremendous value in high-demand sectors to drive the digital forensics space into its next growth phase".
Frost & Sullivan also states that Help AG "creates innovative services by embracing paradigm shifts as the market evolves, focusing increasingly on human capital enablement […] and a service-centric business model […]. As a thought leader and pioneer in cybersecurity, Help AG has developed and refined these processes over many years, perfecting its approach".
Commenting on the report, Stephan Berner, Chief Executive Officer at Help AG, said, "Operating under the banner of 'Innovate. Automate. Elevate,' Help AG has striven from the beginning to be the market evangelist in everything cybersecurity. In line with this, we have invested significantly in the development of state-of-the-art, in-house digital forensics and incident response (DFIR) capabilities, providing the full life cycle of services from initial attack scoping and containment to remediation and recovery".
He added, "The latest recognition from Frost & Sullivan reaffirms our position as a leader in the digital forensics industry and the broader cybersecurity sector in the region, owing to our unique approach focusing on excellent service delivery, comprehensive cybersecurity offerings, service-centric models, and industry-leading innovation. Dedicated to continuous improvement, we will keep building on our portfolio and capabilities to stay ahead of emerging threats and secure the region's organisations as they undergo digital transformation".
Referring to the regional cybersecurity challenges that businesses face, the report states that organisations require more knowledge and resources to address the evolving threat landscape, considering the increased number and sophistication of attacks launched by professional, motivated, and well-funded adversaries. The report adds, "Help AG addresses this unmet need with a strong leadership focus that incorporates client-centric strategies and exemplifies best practice implementation".
Frost & Sullivan states that "Help AG offers the most comprehensive cybersecurity portfolio in the market" in addition to top-tier services, such as cybersecurity consulting, red teaming, compromise assessment, and digital forensics and incident response. Help AG's comprehensive and future-ready Managed Cyber Defence portfolio consists of managed detection and response, threat intelligence, vulnerability assessment, extended detection and response, and SOAR. This is enabled through an in-country state-of-the-art CSOC, 24/7 security monitoring, and response automation at its core. With flexible and diverse delivery models coupled with consistent service optimisation, Help AG's customers receive the best possible protection against cyber threats.
Frost & Sullivan underscores Help AG's in-country capabilities, stating, "Unlike its competitors, Help AG provides locally delivered security event monitoring and response services to fully comply with the unique requirements of organisations and government institutions in the Middle East". This includes both on-premise and in-country cloud-based monitoring services. Providing excellent in-country value to the UAE and KSA economies, along with over 400 cybersecurity practitioners and growing, ,larger than any MSSP in the region, Help AG addresses the unmet cybersecurity needs of the market.  Simultaneously, the company offers access to and synergy with the world-class e& ecosystem.
Frost & Sullivan also recognises how Help AG's executive team closely monitors emerging market trends and evolving customer demands and then responds with novel solutions. The report goes on to say, "With this leadership focus, Frost & Sullivan expects Help AG to sustain its leadership in the digital forensics space". The award specifically discusses Help AG's customer-centric commitment and cites the company's digital forensics incident response solution as an example. "Proactive and responsive, this solution spans from preparation to recovery […] through the stages of identification, containment, eradication, recovery, and concluding with a final report. This process enables clients to reflect on the content of the incident report (and lessons learned) and respond to detailed recommendations on improving [their security] posture, controls, and policies".
This recognition reinforces Help AG's status as the region's trusted cybersecurity partner of choice and its reputation for offering the overall best solutions in the digital forensics space.
Additional findings:
"[Help AG's] team of over 400 cybersecurity practitioners serves more than 500 leading enterprises and government entities" in the region.
"Responsible for the ingestion, digestion, and correlation of more than two trillion events per year, Help AG reports that it handles around 2,000 average monthly Incidents, which translates to 500 average monthly true positives".
Help AG publishes over 120 cybersecurity threat advisories annually and a daily newsletter for its customers.
"[Help AG's] human resources division ensures that it recruits, enables, and retains top talent by embracing and advancing a people-centric approach. As a result, the employees' churn rate is currently at 9.2% (i.e., far below the industry average of 18% and higher)".
"In 2022, [Help AG] established a [Cybersecurity Operations Centre] in the Kingdom [of Saudi Arabia], enabling delivery of DFIR services compliant with local data regulations".
"With its service-centric business model and 360-degree approach, Help AG supports clients in creating a security maturity model to ensure business continuity and safety, thereby minimising the financial impact of cyber threats".
In 2022, Frost & Sullivan also recognised Help AG as the Company of the Year in the UAE Security Operations Centre Services Industry. According to Frost & Sullivan, "Help AG demonstrates proficiency and competence in securely transforming businesses with its best-of-breed cybersecurity operations centre services. With the evolution to 'Help AG as a Service,' the company adopts cutting-edge technology and actively focuses on upgrading, automating, integrating, and orchestrating it".
Help AG offers a comprehensive 360-degree cybersecurity services portfolio that covers all aspects of cybersecurity. With a deep understanding of local requirements and the highest level of certifications, Help AG delivers a strategic combination of proactive and responsive methods to address cybersecurity challenges. Help AG's managed cyber defence service offers in-country state-of-the-art CSOC, 24/7 security monitoring and response, delivery model and deployment flexibility and diversity, core automation, the region's largest team of competence, and consistent service optimisation. Help AG's E2E zero trust solutions provide best-of-breed technology partnerships, innovative product research, expertise and experience in understanding customer challenges, and clearly defined security blueprints. Help AG's next-gen platforms provide in-country availability, data compliance with local data regulations, CAPex to OPex/pay-as-you-grow, and access to local expertise and support 24/7. With this end-to-end portfolio, Help AG is well-equipped to provide holistic cybersecurity services to organisations in the Middle East and Africa.