Dr. Andreas Sennheiser, Co-CEO of the Sennheiser Group, reflects on the company's growth and consolidation as a frontrunner in the professional audio solutions market.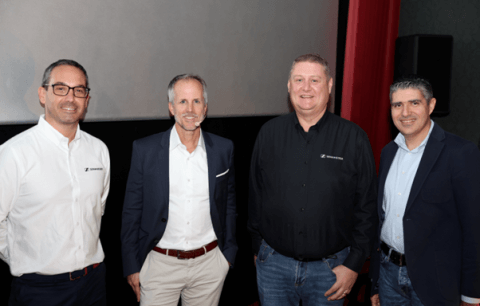 Dr. Andreas Sennheiser, Co-CEO of the Sennheiser Group, visited Dubai recently, to highlight the significant strides made by the company in consolidating its position as a leading provider of professional audio solutions during the fiscal year 2022, achieving sustainable growth autonomously. In particular, the sales of its professional audio solutions experienced a remarkable 26 percent surge, reaching a total of 467.7 million euros. This exceptional performance not only allowed the company to meet its predefined targets but also substantially exceeded expectations.
Furthermore, the family-owned business took advantage of the opportunities in 2022 to strategically invest in its future. This was largely made possible by divesting the Consumer Business and shifting its focus towards catering to the requirements of professional clients.
A year after declaring its commitment to exclusively concentrating on the Professional Business, the Sennheiser Group can reflect on a highly favorable trajectory. Sales of professional audio solutions have exhibited consistent growth in recent years, except for the challenging pandemic year of 2020. In 2022, this growth gained further momentum, enabling the company to reinforce its robust standing as a leading provider of professional audio solutions.
"We have managed to keep up the positive momentum from 2021. Our focus on professional audio solutions has enabled us to grow disproportionately while increasing profitability in a year that, like many other companies, presented us with major macroeconomic challenges," said Dr Sennheiser. "Particular growth drivers in fiscal year 2022 were the increased demand for professional meeting solutions due to newly emerging formats of hybrid working and learning, as well as the resurgence of the event industry."
Sustainable investments in the future
"Based on our strategy, we have announced our intention to invest sustainably in the core competencies of the Sennheiser Group. Accordingly, we are building up forces and employees – especially in research and development and at our production sites," Dr Sennheiser added.
In 2022, the company invested a total of 41.8 million euros in research and development, which corresponds to around 8 percent of total sales. At the same time, R&D was repositioned as a central function within the Sennheiser Group, with the particular aim of being better able to develop the software portfolio and in a more effective way. Digital solutions that offer customers added value through a combination of hardware, software and services are the focus here. Research work was driven forward in the fields of artificial intelligence, cloud processing and future wireless technologies.
In parallel, the company is continuing to drive forward the conversion of its entire IT infrastructure with regard to digital business models. Here, Sennheiser has invested more than 4.5 million euros in 2022 and plans further investments in the double-digit millions in the coming years. With the aim of placing the customer even more strongly in the focus of all activities, investments in the harmonization of the ERP landscape, the development of a Group-wide data architecture and the implementation of an agile Service Organization are on the agenda.
The Sennheiser Group countered the uncertainties arising from geopolitical developments by investing in its supply chain. "We have constantly developed our supply chains and continuously expanded our own production capacities. This enabled us to be a reliable partner for our customers despite sometimes difficult supply situations. We have been able to meet almost all requirements last fiscal year," he says. Currently, the company is focusing investment on strengthening its own production sites, including at its headquarters in Wedemark and on expanding the plant in Braşov, Romania. A total of 17.8 million euros was invested in these projects in 2022. "We firmly believe that our own production offers significant strategic added value. The challenges in the global supply chains last year confirmed this approach," said co-CEO Dr. Andreas Sennheiser. "In addition, this is the best way for us to ensure the quality of our Sennheiser and Neumann products, which has always distinguished us."
One emerging business area is Sennheiser Mobility. "With the increasing importance of electromobility, we are also positioning ourselves as a company in the automotive sector. Our goal: to play a decisive role in shaping the audio experiences of the future in this space," says Dr. Andreas Sennheiser. "Specifically, we see potential in the interaction between the AMBEO immersive audio technology and the Business Communication area: because in the future, the vehicle will also increasingly become the communication center for virtual meetings."
"To shape the future of the audio industry, we need the best team in the business. That's why we are continuously investing in our team." Andreas Sennheiser adds: "After all, all the products and services we offer our customers are based on the knowledge, experience and passion of our employees."
When asked about the most important areas of investment and key project underway and plans of future, he said "For us, it is clear that our own production is a strategic added value. On the one hand, this makes us more independent of supply chains, and on the other hand, it also allows us to guarantee the famous Sennheiser and Neumann quality. In recent years, we have invested massively in this area: at the site in Wedemark, we have invested in new automated PCB assembly systems and automated manufacturing methods. In Romania, the expansion of the plant is proceeding as planned. When the project is completed, the plant will be three times as large as it is now."
World Radiocommunication Conference and WMAS
When asked about his thoughts on the upcoming World Radiocommunication Conference this year in Dubai, he said "The frequency spectrum is the basis for wireless communication, because without frequency spectrum, there is no radio connection. In this respect, it is important for us that there is enough time for us to plan for it if any changes are to be made here. This is particularly important for our customers, so that they don't have to replace products they have invested in just a few years later. That's why we are advocating for the longest possible stability. At the moment, there are efforts to obtain mobile radio applications — e.g., public mobile communications or government radio — on the basis of a secondary or co-primary allocation for the TV UHF spectrum. This can lead to significant limitations for wireless microphones and in-ear monitoring solutions. Therefore, it is even more crucial to define sufficiently long transition periods at an early stage and to enter into agreement with the mobile network providers. Together, we must define the rules under which co-primary access to this frequency spectrum will operate in the future.
Sennheiser is working alongside audio industry peers to educate the broader wireless community about Wireless Multi-Channel Audio System (WMAS).
Learn More about WMAS Technology here https://en-ae.sennheiser.com/wmas
Unified Communication
As a company that looks back on 75 years of impressive audio success stories in the field of stage and television, we have transferred our high-quality standards and pioneering spirit into the world of collaboration, meetings and learning and are known today as one of the most reliable business partners in the AV industry. Our "creative dissatisfaction" and passion to constantly improve existing solutions characterize all of our outstanding audio solutions.
The development of the TeamConnect Family is a good example of our ambition to create products that are intuitively usable, manufacturer-agnostic and audibly better – while offering real problem-solving capabilities. With state-of-the-art technologies on the inside and appealing design on the outside, TeamConnect Ceiling Medium, TeamConnect Ceiling 2, both of the TeamConnect Solutions and the TeamConnect Intelligent Speaker will redefine the expectations of unified communication, hybrid learning and business collaboration experiences.
Meet Sennheiser TeamConnect Family Here https://en-ae.sennheiser.com/newsroom/meet-the-teamconnect-family
Sustainability and Diversity
One topic that is no less crucial for the future of the Sennheiser Group is sustainability, Andreas Sennheiser said "As a family-owned company, Sennheiser has always been very responsible —sustainability and environmental protection are the central issues of our time and we at Sennheiser are meeting this challenge head-on. To shift our goals into action, we have defined four key focus topics, based on the UN Sustainable Development Goals, in which we can have the greatest impact as a company.
On the one hand, there is diversity. Diversity unlocks Sennheiser's creativity, innovation culture, and idea generation. We believe in the uniqueness of people and are convinced that a diverse team achieves better results, has higher innovation power, and makes the company more profitable in the long term. We have already made very good progress in this regard and are gradually becoming an increasingly diverse team. At the same time, however, we want and need to go much further to create an attractive environment for our employees in the future.
Furthermore, we focus on our supply chains. There is the upcoming Supply Chain Act, which we are preparing for. Simultaneously, we want to optimize our global supply chain.
In the area of climate protection, we measure our carbon footprint and derive clear targets from this, which we then want to measure ourselves against in the future. For example, we are working on sustainable guidelines in regard to business travel and office commute. We have installed solar cells on our own buildings where possible, for example in Romania, which will cover 50% of our local electricity needs with solar cells.
The topic of Circular Economy is not just about avoiding waste: we are investing in the longevity of our products and are aligning our new product portfolio with circular principles. We are already well positioned in this respect with our products, some of which have been in use for up to 60 years and are repairable. But we know that there certainly is much more to be done.
Specifically, we want to be climate-neutral by 2030. At the moment, we are focusing very strongly on scope one and scope two in order to reduce our carbon footprint there by 25 percent by 2025 with suitable measures. We will then define the measures that will lead to neutrality. Our Business Communication products themselves provide us with a great deal of leverage, because through virtual collaboration and the use of our conference microphones we can also significantly reduce air travel, so that we also make a noteworthy contribution to reducing our footprint in scope three."