TP-Link, a global leader in networking products, has announced its partnership with Ampconnect, a leading technology distributor in UAE.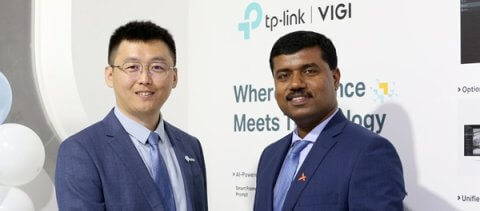 As per the agreement, Ampconnect will distribute TP-Link's full range of Enterprise Networking and surveillance products to its partners in United Arab Emirates. This strategic collaboration will enable TP-Link to expand its business with extensive network of resellers, system integrators empowering enterprise business.
TP-Link's products are known for their high quality, reliability, and innovation. Ampconnect is a trusted partner for businesses of all sizes, helping them to operate more efficiently and successfully in the markets they serve. With over 30 years of experience, Ampconnect is a trusted partner for businesses of all sizes, helping them operate more efficiently and successfully.
'The partnership with TP-Link signifies a remarkable opportunity for AMPCONNECT to deliver Enterprise solutions that will drive our business to new horizons. TP-Link's cutting-edge products are poised to revolutionize connectivity and offer our customers unmatched performance and reliability. Together, we aspire to elevate our offerings and create new dimensions of success,"  said Shaji John, GM-AMPCONNECT IT DISTRIBUTION.
The new distribution agreement will help TP-Link to expand its reach and market share in the United Arab Emirates. It will also provide Ampconnect's channel partners with access to TP-Link's innovative networking products.
 "We are excited to partner with Ampconnect to distribute our Enterprise Networking and surveillance products in the United Arab Emirates. We are committed to providing our customers with the best possible solutions, and we are confident that Ampconnect can help us to achieve this goal," said Lucas Jiang, GM, TP-Link MEA.
About:
Founded in 1996, TP-Link is a global provider of reliable networking devices and accessories, involved in all aspects of everyday life. The company is ranked by analyst firm IDC as the No. 1 provider of Wi-Fi devices for a consecutive 12 years*, supplying distribution to more than 170 countries and serving billions of people worldwide.
With a proven heritage of stability, performance, and value, TP-Link has curated a portfolio of products that meet the networking needs of all individuals. Now, as the connected lifestyle continues to evolve, the company is expanding today to exceed the demands of tomorrow.
Ampconnect is a rapidly growing technology distribution company that focuses on providing business partners with a wide range of specialized solutions. We offer an extensive array of services, including datacenter solutions, structured cabling, computing, network security, data protection, backup, cloud, and IoT solutions. With our ISO certification and unwavering commitment to innovation, we proudly serve clients across the UAE, GCC, and Africa. Our goal is to ensure efficiency and success in diverse markets by equipping our clients with cutting-edge solutions tailored to their unique needs.