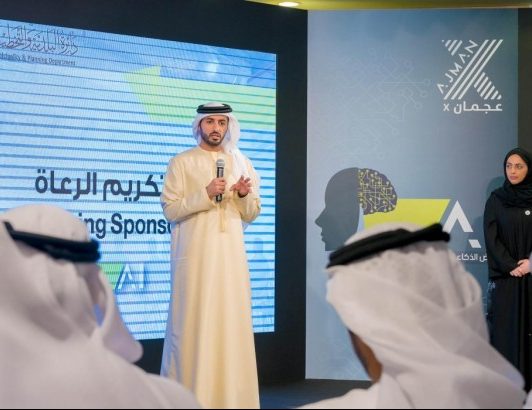 Sheikh Rashid bin Humaid Al Nuaimi, Chairman of the Ajman Municipality and Planning Department, has launched the "Artificial Intelligence Exhibition," which is the first of its kind to be held in Ajman, according to WAM.
The exhibition was attended by Omar bin Sultan Al Olama, Minister of State for Artificial Intelligence, directors of local government authorities, representatives of major companies, university students, and other members of the community.
"We are all responsible for making a positive change and helping to achieve the UAE's comprehensive advancement to make it a leading country," Al Nuaimi said.
Accordign to Al Nuaimi, the move is in line with the government's digital transformation strategy. "We all must intensify our efforts to support its vision and implement the directives of the wise leadership. Several years ago, we began transforming all our services to electronic and smart services, and today, due to Allah Almighty, most of the services provided by our authorities are smart services. We now must walk with confidence to complete our journey of success and employ artificial intelligence, which represents both the future and the current era, in all areas of work and life, as well as to guarantee sustainability."
Speaking about the importance of employing intelligence in all fields, Al Olama said, "Long ago, people's advancement was measured in terms of their talents and resources. Today, artificial intelligence works on utilising these two assets as talents are represented in systems, adequacies and human energies, and resources are represented in information and data."
The first day of the exhibition featured a demonstration of the biggest companies' experiences in the field of artificial intelligence in addition to the Ajman Municipality and Planning Department's experience.
The day also included discussions between the biggest companies in artificial intelligence and the audience who contributed by making innovative suggestions and new ideas, which fit their needs.
The exhibition will also include interactive workshops, and which conclude with recommendations presented to the decision-makers and responsible bodies.