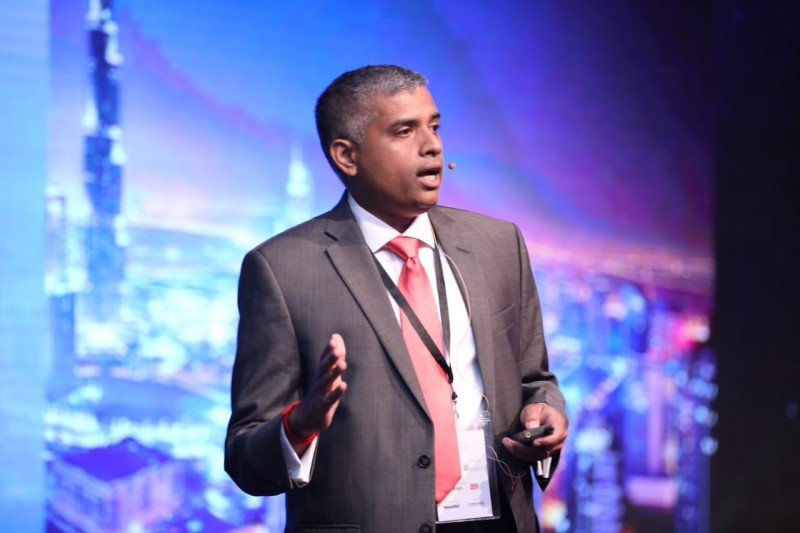 Reseller Middle East's inaugural Margin Builder Forum 2018 kicked off this morning with an insightful keynote address by Redington Value's president Ramkumar Balakrishnan.
Gathering over 100 attendees across partner firms, Margin Builder Forum 2018 discussed intrinsic challenges and market opportunities close to the channel community.
Balakrishnan's keynote speech, 'The great margin game', resonated well with the attendees as he discussed profitability within the IT channel industry.
He said, "Profitability has become a mirage – the closer you get, the farther away it looks.'
He stressed on the importance of partners learning to sell business outcomes to be successful in the future.
"This means partners are not dealing with the IT manager any more but getting to understand the industry they are trying to sell to."
According to Balakrishnan, partners can sell business outcomes by picking an industry and understanding the challenges that need to be solved, then designing customer specific solutions.
"Partners need to get an ecosystem going and get along with companies that they historically competed with," he added.
Balakrishnan urged partners to understand their costs.
"Don't do everything yourself, outsource functions without being emotional about it. Partners need to build a broad base of small long-term customers to ensure success in the future."
Partners need to transform their individual businesses to the digital era before they attempt to become consultants for customers.
"Digital transformation is fundamental and will be part of almost every single project that partners will deliver. Partners need to walk the talk and digitally transform their own business first," said Balakrishan. "They need to invest in time and young talent to take their operations to the next level."
The following panel discussion on 'How to increase profit margins' echoed similar thoughts from Balakrishnan's address. Industry leaders Fayez Ibbini, CEO, Alpha Data; Shailendra Rughwani, MD, Experts Computer; Nehul Goradia, co-founder, Enabler One and Gareth Hansford, GM, Gulf Software Distribution delved into how partners can differentiate their offerings, maintain cash flow and broaden their revenue opportunities.
The next panel discussion 'Combatting challenges in the channel' had experts Hesham Tantawi, VP MENA, Asbis Middle East; Dharmendra Sawlani, president, Dubai Computer Group; Sohrab Saeed, VP group credit, ENBD; Farah Anwar, co-founder, Ashraf Electronics and Savitha Bhaskar, COO, Condo Protego go head-to-head in an interactive discussion on challenges in the channel.
The panel touched upon issues around credit, evolving businesses to the digital age, understanding implementation of VAT and other market challenges.
The conference concluded with topline regional distributors Ramkumar Balakrishnan, president, Redington Value; Nidal Othman, MD, StarLink; Nicholas Argyrides, chief of sales and deputy GM, Mindware and Asim AlJammaz, CEO, AlJammaz Distribution deliberating on the 'Future of IT Channel'.
These channel titans exchanged ideas and solutions on what the partner community could do to thrive in the digital age of tomorrow.
Leaving the audience with invaluable insights, Margin Builder Forum 2018 was a huge success and well received by all stakeholders.