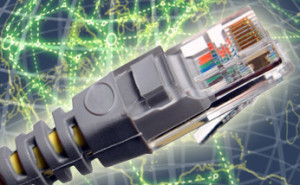 Arista Networks today announced two new 100 GbE modules that through open and programmable overlays can achieve VM mobility.
The 7300X Series with 10GBASE-T modules are gaining adoption among customers deploying cost-effective single tier and two tier networks.
The new line cards expand the portfolio of high density 100GbE.  The Arista 7500E 100GbE line cards provide full support for IEEE 100GbE standards on both single-mode and multi-mode fiber, and broaden the choices for 10/40/100G with investment protection for existing customers.
With Arista 7500E 100GbE in the spine layer, customers can now achieve network virtualisation using VXLAN support in the modular platforms to deploy their cloud multi-tenant networks.
Those deploying the Arista DANZ features within Arista EOS can now get traffic visibility on 100GbE networks by leveraging Tap Aggregation on Arista 7500E modular platforms.
Arista's Data Analysis DANZ solution is now expanded to modular chassis platforms and enables customers to connect to 100GbE spline or spine networks and to deliver tap aggregated 10GbE connections into a single 100GbE uplink to network monitoring, management and analytic tools.
"At Tri-State Generation and Transmission Association, Inc. the network is critical to maintaining the services our customers depend on," said Steve Wesling, IT Operations/Network Manager, Arista.  "With Arista EOS and the Arista 7300 platform, we will be able to automate and program our network, ensuring high availability and uptime while also reducing our operational costs."
The Arista 7300 Series offers 10GBASE-T at lower power per port than classic 10/100/1000 – allowing customers to migrate existing modular platforms to existing structured cabling systems.
Arista also has a trade in program that enables customers to leverage the SDN capabilities of the 7300X Series while migrating from classic modular systems.