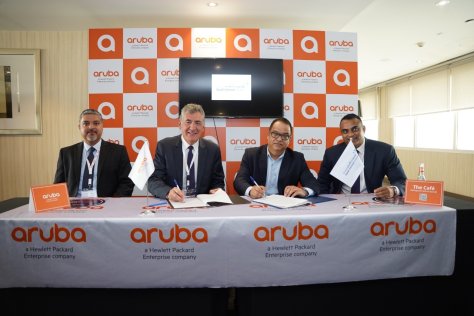 Aruba, a Hewlett Packard Enterprise company, today announced that it has provided network infrastructure technology to Saudi German Health UAE, that has underpinned the Group's digital transformation and enabled it to drive new innovation in the healthcare space.
Saudi German Health UAE is a beacon of excellence and professionalism when it comes to healthcare across the Middle East. It is a premium brand, that has earned a reputation for its commitment to the health and wellbeing of the community and people it serves, by caring like a family. In the UAE, it has hospitals in Dubai, Ajman, Sharjah, clinics in Jumeriah, Damac Hills and Damac Hills 2, with further facilities being added with a Centre of Excellence opening soon in Dubai and a hospital in Mirdiff.
"Our primary objective during our transformation was to maintain the world-class service we deliver. I believe that technology is at the very heart of the world-class service that we have been providing all over the region. To be able to achieve this, you need a very strong, robust and reliable network to make sure that all your medical devices are connected, and your applications are connected, because top-class patient experience is fundamental for us. It's non-negotiable. Aruba's architecture supported the delivery of all these services – and we are confident that the high-performing network will also support our future requirements as we look to expand across the UAE and the rest of the Middle East", said Mr. Abid Shah, CIO at Saudi German Health UAE.
Mr. Shah also disclosed that with future-proof technology now on offer, there are numerous use-cases that they can adopt, and one of the key things they are looking for from their partnership with Aruba is the ability to innovate together. He also adds that one of the many benefits of partnering with Aruba, is that the company's network infrastructure is robust and the security is very strong.
Saudi German Health implemented Aruba ESP (Edge Services Platform) which is the industry's first cloud-native platform designed to automate, unify, and secure the Edge — using AI to spot and fix problems before they impact your business. The Group has also leveraged Aruba's WiFi 6E technology that has played a key role in empowering the institution's infrastructure. All the WiFi access points installed have a built in Zigbee, Bluetooth and a provision to take third party USB dongles. They also have a GPS built into them, which is an industry-first and the solution is called Open-Locate that will open up various location services use cases. When you have all that capability built into the access point, then the potential business outcomes really open up.
"We want the patient experience to be consistent and seamless throughout all our facilities. In the UAE, when our patients move from our Dubai hospital to Ajman, or Sharjah, we want them to have the same level of experience, and the Aruba platform will help us achieve that. We're applying the same concept to our health systems, which means our patients can access their files in any of our hospitals, or clinics. Our collaboration with Aruba and Megamind (our digital transformation group company) is so important to us, because it is also going to support our digital transformation going forward", concluded Shah.