GITEX Global, Dubai, UAE, October 17, 2021: Avaya today launched its participation at GITEX Global with a next-generation learning platform aimed at accelerating the UAE's Emiratisation strategy.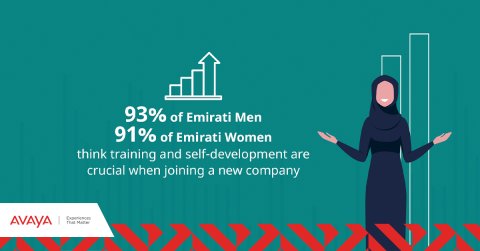 Powered by Avaya Spaces, the workstream collaboration platform for the digital workplace, the solution enables UAE private sector companies to rapidly train and upskill incoming Emirati employees as they work towards the Emiratisation targets set by the Nafis scheme, which aims to integrate 75,000 Emiratis into the private sector over the next five years.
According to an Avaya poll conducted by YouGov, 93% of Emiratis believe that training and development is needed when they join a new company. And 92% believe that, for Emiratisation to succeed, employees need a fast way to develop their skills and knowledge within the private sector.
The learning platform launched by Avaya at GITEX addresses these needs perfectly, providing Emirati employees with a secure, scalable platform that will help them develop the skills they need quickly as they advance their private sector careers. The platform also enables continuous learning and training beyond onboarding, helping Emiratis to further their professional development at a pace that suits them.
In addition, it will enable UAE organisations to comply with the Fourth Principle set out by the UAE's leadership in the country's 10 Principles for the Next 50 Years. The Fourth Principle identifies human capital as the main driver for future growth, with a focus on developing education, attracting talent, and retaining specialists.
"We are extremely supportive of the UAE's strategic developmental plans. Not only are we moving forward with our own Emiratisation efforts, but we are proudly developing the technology that local companies need to quickly onboard Emirati talent. The UAE has a proud history of enabling local talent with advanced tools and platforms, and we are delighted to be adding to that legacy", said Nidal Abou-Ltaif, President, Avaya International.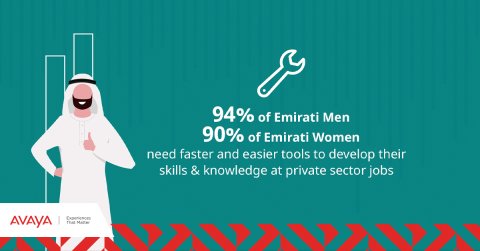 The learning platform built on Avaya Spaces creates an always-on learning ecosystem. It combines workstream collaboration, task management and unified communications to create a digital training environment in which users can:
Consume video training sessions – both live and recorded.
Engage with mentors and peers.
Track progress and earn points through a gamified learning system.
Discover new skills and take courses across a range of subjects.
The platform serves as a further example of Avaya's leadership in developing regional technology talent. At GITEX this year, Avaya is a strategic partner for the GITEX High Flyer initiative, one of the largest and most ambitious technology internship programs to be launched in the region. And the Avaya Academy, launched over three years ago, helps to provide a direct progression for new graduates and IT industry newcomers to begin their technology careers.
The solution will be on display on Avaya's stand at GITEX Global 2021. Avaya's presence at GITEX comes in partnership with Future Technology, Gulf Applications, RayCom Technologies, Sestek, Summit Technology Solutions, Toolwire, TOPAZ, and Verint Systems. Visit Avaya at its stand in Zabeel Hall, at Dubai World Trade Centre between October 17 and 21, 2021, or tune into the live broadcast.