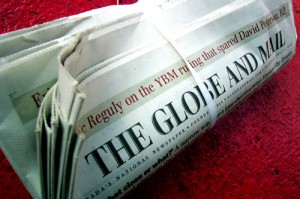 It's no secret that SAP's HANA in-memory database has become the centrepiece of the software vendor's technology strategy.
HANA features heavily in pitches for both high-speed analytics and in support of transactional applications like SAP's flagship Business Suite. But HANA, when sold in its appliance form, can fetch a steep price tag.
In October, SAP made a limited version of HANA available on Amazon Web Services. Dubbed HANA One, the service limits database sizes to 60.5GB and SAP recommends customers stick to 30GB or less to ensure top performance. But customers are also allowed to run applications in development, testing and production environments, and can pay for the service by the hour instead of forking over a large up-front chunk of money. Prices start at US$0.99 per hour, plus Amazon's infrastructure fees.
An early adopter of HANA One is Canadian newspaper The Globe and Mail.
The paper had attempted to conduct deeper analysis on clickstream data captured on its website by its Omniture software, but had difficulty pushing the multi-gigabyte daily data loads of unstructured information into its Oracle database, said Sandy Yang, SAP Business Warehouse Functional Analyst at the paper, during a webcast event this week.
The Oracle database has trouble with the "schema-less" information output from Omniture, said Kevin Schlueter, Enterprise Architect at the newspaper. "Oracle isn't quite the right tool for this job. It's a great tool for a lot of other things, but not necessarily this."
Omniture provides a Web interface that can show metrics such as page views per second and the number of unique visitors to the site, but in many cases, The Globe and Mail's business analysts have deeper questions that require further analysis on the raw data, Yang said.
Ultimately it was decided that the paper would build a data analysis environment on Amazon Web Services, using its Elastic MapReduce service, which incorporates the open-source Hadoop framework for large-scale information processing.
But Hadoop is a batch-processing framework, making it a challenge for analysts to post "what if" type questions about the data, Yang added. SAP, meanwhile, has held up real-time data analysis of that nature as one of HANA's strong suits.
Yang learned of HANA One's availability on AWS and started up an instance. Within several days, she had managed to import one day's worth of Omniture data into the instance and create a first analytic view, she said.
Yang was then able to sit with analysts and give them answers to their questions about the data quickly, rather than having to go back and run additional EMR jobs based on what they wanted to know.
The Globe and Mail has spent very little money to run HANA One, despite the results it has received, Yang said. In fact, December's bill was less than $200, with most of that expense incurred for AWS infrastructure fees, she said. "It's actually really cheap."
As for ease of use, HANA One "was so simple we didn't think it was a SAP product," Yang said. SAP's claims of HANA's high performance also checked out: "It's fast."
HANA One also gave The Globe and Mail a chance to get a hands-on look at HANA without a major investment in an on-premises appliance, something that would have been quite difficult.
"HANA was always a very abstract concept to us," Schlueter said. "We'd seen all the presentations but it was just a piece of PowerPoint."
"Times for newspapers are somewhat challenging," he added. While The Globe and Mail's leadership wants its IT department to demonstrate the value of a technology before buying into it, that presents a "chicken and the egg" problem, something HANA One helps solve, he said.
Last year, total HANA revenues were €390 million (US$507 million), which SAP said had exceeded its expectations.
Given the database size limitations and pricing model, HANA One could mostly be meant as a way for SAP to entice developers to the platform, as well as generate interest in more profitable HANA appliances by allowing potential customers to easily run small projects, much as The Globe and Mail did.
SAP is also hoping to develop another major revenue stream from HANA by enticing customers of its flagship Business Suite ERP (enterprise resource planning) software to use HANA as an underlying data store, rather than databases from Oracle or IBM, as many do currently. HANA compatibility for the Suite was announced in January.