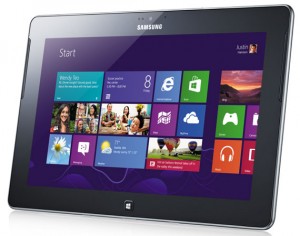 The grumbling of PC makers is getting louder with Windows 8 doing little to spark laptop sales.
The latest complaints come from Jun Dong-Soo, President of Samsung's memory chip division, who had no kind words for Windows 8 during a meeting with reporters in Seoul.
"The global PC industry is steadily shrinking despite the launch of Windows 8," he said Friday, according to Korea Times. "I think the Windows 8 system is no better than the previous Windows Vista platform."
Jun's statements echo findings by IDC and Gartner, who found that PC sales declined during the holiday shopping season. Jun added that Microsoft's Surface has seen "lacklustre demand," and that demands for thinner Ultrabooks by Microsoft and Intel failed "mostly because of the less-competitive Windows platform."
Samsung isn't the first company to have an executive publicly complain about Windows 8. In January, Acer President Jim Wong said that "Windows 8 itself is still not successful," noting that the market had not returned to growth after the new OS launched.
Wong was more encouraged by the growth of Acer's Chromebooks, the latest of which launched in late 2012.
Meanwhile, HP, the world's number one PC maker, is exploring other options beyond Windows. The company released its first Chromebook in February, and will ship its first Android tablet in April. (HP hasn't dissed Windows 8 publicly, but hardware boss Todd Bradley did fling a few insults at Microsoft's Surface RT and Windows RT in November.) 

It does, however, seem disingenuous for PC makers to pin the blame solely on Microsoft's operating system, as if the hardware is without fault. So far, PC makers haven't put forth much in the way of compelling Windows 8 hybrids and convertibles, and the ones that did launch late last year were in short supply.
There's evidence that people are interested in touch-based Windows 8 machines – Asus admitted as much this week, even as the company said overall Windows 8 acceptance was low – but the selection needs improvement.
It's possible that next-generation processors from Intel and AMD, along with refinements to the Windows software in an update codenamed Windows Blue, could make for a healthy second wave of software.
Microsoft is also rumoured to slash licensing costs for small, touch-based laptops and hybrids, which could improve Windows 8's chances on the low end of the market. Maybe that's what PC makers are hoping to accomplish with their public grumblings.