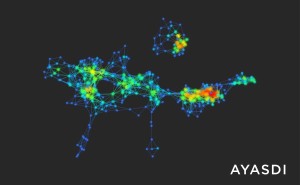 Analytics applications firm Ayasdi has announced a strategic partnership with Teradata to "empower enterprises" to find critical intelligence within their growing datasets. 
Ayasdi's application will be integrated with the Teradata Unified Data Architecture. It is hoped that through the integration, healthcare, financial services, energy, retail and life science organisations can quickly discover new insights.
Ayasdi's technology combines topological data analysis with machine learning algorithms, designed to help firms uncover insights, anomalies or similarities within complex data sets with hundreds of thousands of variables.
"The exponential growth of data sets, both in size and complexity, demand new analytics techniques and approaches," said Wayne Boyle, Vice President, Technology and Strategy, Teradata. "Ayasdi provides a unique capability to handle the extreme number of variables that are common in some industries. Their Topological Data Analysis techniques coupled with the high speed parallel processing capabilities of Teradata's Unified Data Architecture will enable analysts to tackle problems that were previously inconceivable."
"Given Teradata's leadership in Big Data analytics and innovative customers, we are thrilled to partner with them to address the highly complex use cases they encounter," said Andrew Bowles, Vice President, Business Development, Ayasdi. "Integrating Ayasdi's advanced analytics solution with the Teradata Unified Data Architecture will further enhance customers' investments in Teradata and empower them to extract insights from their data and operationalize their findings."