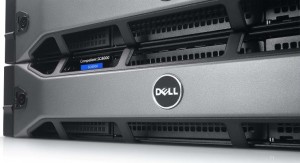 Dell has used Powering The Cloud's 10th anniversary trade show in Frankfurt to emphasise the importance of efficiently managing big data.
It claims Compellent, its fluid data architecture, is the industry leader in terms of filtering a company's most vital information to the fore of its storage.
Its SC8000 locomotive is a hardware interface which is connected to the network.
Robin Kuepers, Storage Marketing Director, EMEA, said, "Our SC8000 locomotive is the most cost-effective system in the field of fluid data. Data is organised into three tiers, and the system can efficiently move cold data into its bottom tier. This is cost-efficient for businesses, as high-priority data can come to the fore, while dormant information can be stored cheaply.
"Big data is here to stay. Dell have capitalised on this, and have designed software that makes more economic sense for organisations who need to deal with this data. We have managed to reduce both operational and capital costs for our users."
He is also conscious of Dell's need to keep up with the demanding trend, "The benefits of our systems include being able to acquire storage, deploy it, and then if needed to grow it on demand. We know how to intelligently manage data to seamlessly adapt to business needs in order to provide superior value.
"We don't pretend to be a big cloud builder, but we are a company that provides the best software which enables companies to design their own purpose-built clouds. We appreciate the value of not only deploying complex infrastructure, but having the power to support it as well."
When asked about security concerns over cloud technology, Kuepers took a realistic view of the risks involved: "People have to live with the reality that having your data hacked on a public cloud is always a possibility. Privacy and security are important things, but to what level can you guarantee them?
"I think people accept that whatever data you put online in any form there is always a risk that it might be hacked, whether it is an online bank account, or the use of prism to stalk individuals' information. It is just a question of reducing that risk so that it is unlikely to happen."
Kuepers realises the huge potential the Middle East holds in terms of cloud growth, "The Middle East does not have a great legacy of cloud storage, and so it is open to everything that is new," he said. "It's convenient for people in the Middle East to work with the cloud, as they perhaps don't have the facilities to run data centres as it is an up-and-coming region."