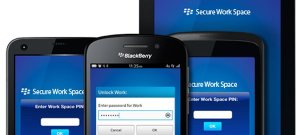 BlackBerry has announced a renewed enterprise focus, including a partnership with Samsung that provides secure mobile software for certain Samsung Android smartphones and tablets.
The software, to be available early next year, will bring together BlackBerry's new BES12 Enterprise Mobility Management (EMM) software with Samsung smartphones and tablets that are embedded with Samsung's Knox security software. Models include the Galaxy S5 and Galaxy Note 4.
BlackBerry announced the partnership with Samsung at an enterprise mobility event that was webcast from San Francisco. The event also featured a number of new BlackBerry software products and a partnership with Salesforce for sales into the public sector.
BES12, the latest update from BlackBerry for its enterprise server management and security platform, was officially made available Thursday. The service will be mainly available through wireless carriers globally in coming quarters, a BlackBerry spokeswoman said. Pricing was not announced.
BlackBerry CEO John Chen called BES12 "the most secure platform" on the market and said BES12 works across all the major mobile platforms, including iOS, Android, Windows Phone and BlackBerry devices.
BlackBerry's current BES10 offering, along with BlackBerry device software, already outsells the next three mobility management vendors, Chen added.
"We have slipped a little bit in the past, but will use this [BES12] opportunity with new partners to recapture that," he said. BlackBerry has invested $1.5 billion in its latest innovations, he said.
BES12 will serve as the foundation of BlackBerry's enterprise management portfolio, but BlackBerry also announced two identity and access management software products. One of them, Enterprise Identity, will help manage secure access to cloud-based services and internal apps with a single point of control.
The other, VPN Authentication, is designed to offer enterprises Public Key Infrastructure-based, two-factor authentication. With the VPN tool, workers will be able to use their network credentials combined with their iOS, Android or BlackBerry 10 smartphone to securely access corporate content. The VPN tool will eliminate the need for costly hardware tokens carried by workers that can easily be lost, for secure access. Users also won't need to use a PIN. The VPN tool will be available in early December.
BlackBerry also announced a corporate version of its BlackBerry Messenger app called BBM Meetings. It will allow voice and video conferences for a group of up to 25 people on BlackBerry 10 and Android smartphones and Windows PCs and Macs.
Originally published on
Computerworld (US)
.
Click here to read the original story.
Reprinted with permission from
IDG.net
. Story copyright 2021 International Data Group. All rights reserved.