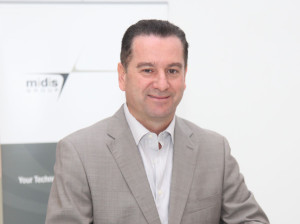 In an exclusive interview, Sami Abi Esber, President, Board Member, Midis Group, speaks to Reseller ME on the recently acquired managed services company, eHosting DataFort and the evolving role of a systems integrator in a virtualised environment. 
The role of a systems integrator is evolving as technologies become more complex and disruptive in a highly dynamic environment. MDS Gulf, part of Midis Group, has witnessed for more than three decades the technological transformation that the region has experienced. And keeping in line with the evolving times, the company has been focusing on adapting itself from a reseller to a contemporary systems integrator.
Sami Abi Esber, President, Board Member, Midis Group, says that this has been one of the main focuses for the company. The company has executed big and prestigious projects in the region over the last few years. It provides software applications and complete turnkey solutions to its customers, right from site preparations of a data centre to its infrastructure, including hardware, network and software.
"We have transformed MDS Gulf from a reseller to a true systems integrator over the years," says Esber. "It is really a big change because if you take our role as a reseller four or five years ago, we were mainly providing installation and services of hardware and software. Now our role has totally changed, we have complex projects where we have to provide a complete solution including consultancy, implementation of infrastructure for our customers. Also instead of reselling only hardware, we are now offering a complete solution here. And this solution can be on-premise, hosted or even hybrid. This is a big change for us."
The systems integrator has acquired the regional managed IT services provider, eHosting DataFort, which will do the hosting and managed services in order to give the systems integrator's customers a full portfolio of solutions. "eHosting DataFort will be able to help us in providing hybrid solutions to our customers. We can build and host private and public cloud; and simultaneously we can continue doing on-premise installation and implementation for our customers. And this is within our role as a SI, we don't want to be a co-location only or just hosting, we want to have a full IT service provider capabilities along with systems integration."
Over the next couple of months, the SI will integrate the newly acquired business to provide complete hybrid solutions to the customers seamlessly.
"Managed services is an important avenue of growth for systems integrators. Some of our customers prefer someone to take over the IT infrastructure and manage it, so that they can focus more and more on the core business. They outsource all the IT infrastructure and this is what we are doing now through eHosting DataFort – we are managing the hardware, storage, managing the full IT infrastructure for many of our customers," he explains.
MDS Gulf has entities in UAE, Qatar, Oman and it has most recently opened up office in Kuwait two months ago. According to Esber, the company is seeing an impressive growth in Qatar and Oman.
"We have just started operations in Kuwait and we are hoping it will be a good market for us. We have experienced a good growth from Saudi Arabia as well, we are one of the major IT players in that market. However, the biggest growth for us will be from Qatar."
The systems integrator's technology partners include most of the major IT vendors in the market and it has recently signed a new partnership with Dell software. As a part of a concept with the parent company, it acts as a major distributor where it presents a company in the region. "We are doing this for Dell Software for Middle East, Africa, Central and East Europe out of Dubai Internet City. There will be a company called D Software, and it will be the port of contact for Dell Software distributors and partners. And D Software is a part of the Midis group," explains Esber. The SI works closely with its vendor partners to provide a full profile of services and customises the solutions depending on which vendor it is.
As is seen in global markets such as US and Europe, Esber believes the region will embrace the third platform technologies even more strongly. "This is the main transformation that is happening in the market right now. We are seeing an increase in requests from our customers to consolidate storage, to understand Big Data better and to undertake more security projects. Foreseeing this, we have acquired a security company called Netcure, two years ago. This is also based in DIC, and it provides only security services to customers."
One of the main challenges for the SI is to find talented professionals in the third platform and in other emerging technologies. "There is a shortage of qualified professionals in this area. This is where I encourage young people and universities to put more focus on."
The company has grown by over 17 percent this year and is targeting for a similar growth in 2015.