The cloud service provider, Brams is looking at growing and adding ERP, a new product to its portfolio by early next year, it said recently.
"We are expecting at least 100 percent growth from next year onwards, this is our core plan. We also want to add some more cloud services into the portfolio. And we are looking at adding ERP by early next year and hope to partner with a cloud based ERP vendor as there is a lot of interest in the market," explains Prramhod Shetty, Regional Sales Director, Brams.
The company, growing at a fast rate, sees significant interest in the Middle East region on cloud services and has educated th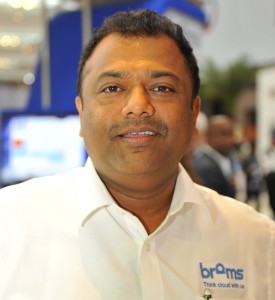 e market on its benefits. The company considers bringing confidence towards cloud as a part of its business.
"We see a lot of enterprises that are more than 500 users and below 2000 users taking active interest in cloud-based applications such as project management and work flow. We are looking at going to the mid-market and also the enterprise customer, though our major focus is on enterprise. We also hope to add more partners in each existing region and newer markets," he adds.
According to Shetty, there is a lot of interest for Google Chrome books, which is a cloud enabled product coming from Google, with sole interest in Education. "A lot of universities are showing interest. They are connecting that with their BYOD strategy. Chrome book allows them to bring BYOD technology at a low cost," Shetty says.
Brams currently operates out of Zurich, Paris, Morocco, Ivory Coast and Dubai. It does messaging, collaboration and security for its major vendor at the moment, Google Enterprise. The company's 90 percent of business comes from cloud and the other ten percent comes from Google's Search Enterprise business.