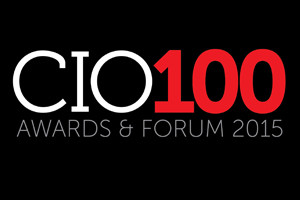 CNME's inaugural CIO 100 Awards ceremony took place yesterday, honouring the top 100 C-level IT talent from across the region.
Endorsed by International Data Group, the CIO 100 Awards have been taking place in the United States for the last 30 years, but have finally made their way to the Middle East.
The Jumeirah Beach Hotel procession celebrated 100 organisations and their IT figureheads that have been using technology innovatively throughout 2014 to deliver business value.
Applicants had to show not only that they had executed a project well but also that they had done so in uncommon, innovative ways: pioneering a new technology, applying a familiar technology to a new purpose or setting the bar higher for their competitors.
The extent to which organisations used IT in a new way or enabled new ways of doing business, whether internally or externally, as well as having a measurable impact – backed up by supporting data – will be what makes the difference.
"We're incredibly proud to have brought this globally-recognised awards programme to the Middle East for the first time," said Jeevan Thankappan, Group Editor, Technology Division, CPI Media Group. "All the winners have gone the extra mile in setting their organisations apart through the use of technology."
Here is the list of winners in full:
Abdul Razack Dileep Raj, Abu Dhabi Urban Planning Council
Abdulla Ahli, The Emirates Institution for Advanced Science and Technology
Abdullah Al-Attas, SAMACO
Abdulmajeed Malek, ENOC
Abdulnasser Alkaabi, Abu Dhabi Media Company
Abdulrahman Alonaizan, Arab National Bank
Abdulsalam Al-Bastaki, Dubai Properties Group
Afraa Ali Al Shamsi, UAE University
Ahmad Al Madani, General Pension & Social Security Authority
Ahmad Al Mulla, Emirates Global Aluminium
Ahmed Ebrahim Al Ahmad, Nakheel
Ahmed Yahya, Sheikh Khalifa Medical City
Ajay Rathi, Meraas Holding
Alaeddin Al Badawna, ADMA-OPCO
Ali Abdul Aziz Ali, ADNOC Distribution
Ali Ghunaim, Canadian Specialist Hospital
Ali Mohamed Al Ali, Health Authority – Abu Dhabi
Ali Radhi, MBC
Aliasgar Bohari, Zulekha Hospitals
Amin Al-Zarouni, Bee'ah
Amit Kanchan, Landmark Hospitality
Arun Tewary, Emirates Flight Catering
Basem Burgan, Alshaya
Col Anwar Almulla, Abu Dhabi Police
Col Khalid Buhindi, Sharjah Police
Deepu Thomas Philip, Kuwait International Bank
Dr Hazem Turki El Khatib, Department of Finance, Abu Dhabi
Dr Joseph Nettikaden, Esol Education
Dr Saif Ketbi, Abu Dhabi Airports
Dr. Sabri Hamed Al Azazi, Al Hilal Bank
Dr. Zuhair Lardhi, Khalifa Fund for Enterprise Development
Dr.Jassim Haji, Gulf Air
Entesar Al Hosani, Environment Agency, Abu Dhabi
Esam Alfalasi, Ministry of Economy
Esam Hadi, Aluminium Bahrain
Fady Sleiman, Waha Capital
Faisal Eledath, National Bank of Oman
Farid Farouq, DWTC
Fuad Al Ansari, Takreer
George Yacoub, SEHA
Ghazi Qarout, Qatar Islamic Bank
Hamdan Alkalbani, Union Properties
Hisham Iran, Dubai Taxi Corporation
Hussam Al Nowais, twofour54
Ibrahim Al Emadee, Qatar General Electricity & Water Authority
Imad Taha, Belhasa Group
Jawed Akhtar, Ebrahim Khalil Kanoo
Kashif Rana, Majid Al Futtaim Ventures
Khaled Al Rashaid, Ministry of Education, Kuwait
Khalid AlMansouri, Etisalat Misr
Khalid bin Hamad AlKhalifa, King Hamad University Hospital
Kirit Shah, Landmark Group
Kumar Prasoon, Al Safeer Group
M N Chaturvedi, Al Shirawi
Madhav Rao, Emke Group
Madhusudhan Sarangi, Port of Fujairah
Maisam Zaidi, ALEC
Mazen Chilet, Abu Dhabi University
Mehmet Akdeniz, Emirates Palace
Michael Reagin, Cleveland Clinic, Abu Dhabi
Michaella Kerckhof, Majid Al Futtaim
Mohamed Sabah, Dubai Holding
Mohammad Javeed, Paris Sorbonne University
Mohammad Raffi, Jotun Powder Coatings
Mohammed Saeed Al Shehhi, Statistic Centre- Abu Dhabi
Mubarik Hussein, Petroserv
Muhammad Ali Albakri, Saudi Arabian Airlines
Nadeem Busheri, Dubai Islamic Bank
Nawwaf Awwad, Saad Specialist Hospital
NSN Murthy, Healthcare MENA
Omar Al Nuaimi, Abu Dhabi Food Control Authority
Patrick Naef, Emirates Group
Prasanna Rupasinghe, Kempinski Hotel Mall of the Emirates
Ramesh Varma, Arab Bank for Investment & Foreign Trade
Roland El Khoury, Impact BBDO
Rusty Bruns, American University of Kuwait
Sabri Ali Yahya, Etisalat
Saeed  Al Ghailani, Deparment of Transport, Abu Dhabi
Saeed Al Dashti, Jumeirah Group
Saif Salem Bamadhaf, Higher Colleges of Technology
Saji Oommen, Al Batha Group
Samer Awajan, Aramex
Samir Abi Frem, Rotana
Samir Khan, African Eastern
Sebastian Samuel, AW Rostamani
Shrikant Kabboor, Emaar Properties
Sreedhar Reddy, Aldar Properties
Sumit Sarkar, National Bank of Fujairah
Tariq Al Hawi, aeCERT
Tariq AL-Usaimi, Kuwait Credit Bank
Terence Sathyanarayan, Drake & Scull International
V Suresh, Jumbo Electronics
Vignesh Unadkat, Thumbay Group
Vinay Sharma, Gulftainer Company
Vishal Sood, Perma Pipe
Wissam Ismail, Al Noor Hospitals Group
Wissam Mattout, Nextcare
Younis Othman, Dubai Customs
Yousif Almutawa, DP World
Zaki Sabbagh, Zamil Industrial