Cloud Concept has announced that it has become an authorised reseller of the Google Apps suite of communication and collaboration tools.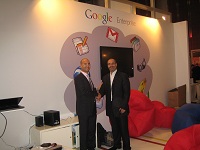 From L to R: Sami Caracand, CEO of Cloud Concept and Abdel Wahed Bendaoua, enterprise head at Google announcing the partnership.
Commenting on the partnership, Abdel Wahed Bendaoua, Head of Enterprise at Google, said: "Google Apps is a powerful set of cloud services that significantly increase collaboration and productivity within any organisation. Google has many years of experience in providing cloud services to corporations and to small and medium-size companies. We are happy to welcome Cloud Concept into our reseller program; their technical know-how and growing customer base will help us bring even higher values to our customers in the region."
"The Google Apps Reseller program will help us enhance the value of Google Apps for users of the GCC," said Sami Caracand, CEO of Cloud Concept. "Google Apps Premier Edition offers a broad set of powerful APIs that enable us to extend our existing capabilities in cloud computing."
As a Google Apps Authorized Reseller, Cloud Concept offers authorized training, support and deployment services on behalf of Google, as well as access to APIs for integrating Google Apps into customers' business operations. The businesses receiving Google Apps will benefit from the additional attention to their specific needs.
Google Apps brings powerful communication and collaboration tools to organizations. With Google Apps, enterprises can use applications such as webmail, instant messaging, calendaring, word processing, and spreadsheets on their own domain to work together more effectively. Best of all, it's all hosted by Google, so there's no hardware or software to download, install or maintain.
Cloud Concept is already a registered consulting partner for salesforce.com and an official Amazon web services solution provider.