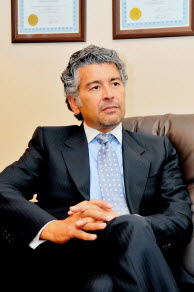 Bassam Samman, CEO and Founder, CMCS
Collaboration, Management and Control Solutions (CMCS) announced that it has recently signed an agreement with Santeon Group to enable regional projects to achieve strategic benefits including 25% to 50% reduction in time-to-market, 10% to 30% savings in development costs, 20% to 65% improvement in quality, greater customer satisfaction, increased team morale and reduction in employee turnover, via utilising Santeon's Agile Training and Services solutions.
The agreement comes as a strategic response to the findings of a recent survey conducted by CMCS which highlighted an alarming region-wide underinvestment in enhancing project management competencies across various project-based sectors. The majority of the survey respondents pointed to improper planning and methodology (78%), lack of communication (75%), and unrealistic target completion dates (67%) as the top three contributing factors to project failure. They also identified inadequate commitment and involvement from senior management (59%), insufficient budgets and resources (56%), too many assumptions and unknowns (51%), project politics and conflicts (38%), lack of set targets or measurable results (45%), and the formation of the wrong project team (27%) as other major causes.
Agile, a development methodology that is results-oriented and value-driven, is increasingly becoming the preferred industry standard as well as customers' process of choice for building reliable software solutions. With the high-growth rate of software development in the region, the partnership with CMCS is designed to accelerate the Agile adoption rate through training, coaching and consulting.
"As the Agile service provider leader in the Middle East, Santeon plans on continuing to expand its relationship with CMCS and engage aggressively in marketing and road-show campaigns to promote the training and certification program to numerous prospects in the region. CMCS has a solid track record and will definitely serve as an excellent partner for our growth initiatives in the Middle East," said Ahmed Sidky, Executive VP Solution Delivery at Santeon Group.
Bassam Samman, CEO and Founder, CMCS, added: "We are excited to partner with Santeon and to be the first to deliver Certified Agile to our customers and prospects. The partnership will further strengthen our portfolio of project management solutions and enable us to offer greater value to our customers and enhance our ability to promote the continued growth of software development in the Middle East."
Through positively shifting the paradigm of how software systems are developed and how the implementation team and business team interact, Agile is dramatically changing the face of the software industry around the world. Agile's uniqueness comes from the fact that it is based on a set of values and principles that harness a flexible plethora of development methods. Agile values and principles are equally focusing on results, maximising RIO, minimising waste, promoting technical excellence and establishing positive team dynamics.