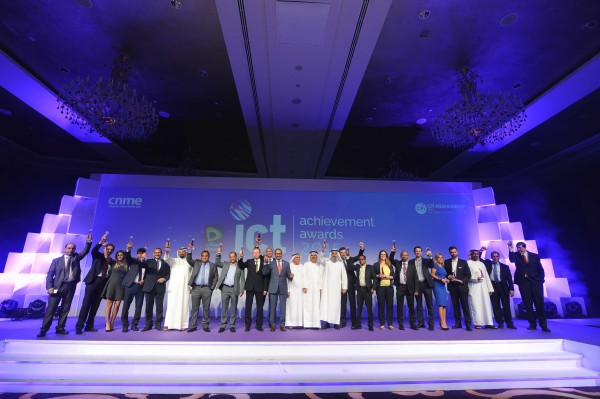 Leaders in the Middle East ICT space gathered last night for CNME's sixth annual ICT Achievement Awards.
Held at the Conrad Hotel, Dubai, the event honoured excellence in leadership and deployments in the technology industry over the past year.
Winners for the evening were picked by an expert panel of judges which include esteemed frontrunners of the industry in the likes of Ghazi Atallah, Managing Director, NexGen Advisory Group; Ian Wakeford, MD, DW Consultants; Dr Jassim Haji, Director, IT, Gulf Air; and M.N. Chaturvedi, Director of IT, Oasis Investment Co.
The evening also saw keynote addresses from Oscar Garcia, SVP of Business Marketing, Etisalat and Basil Ayass, Regional Marketing Director, Dell.
The award ceremony kicked off with a new special award titled 'Publisher's Choice' which was introduced by the Founder and CEO of CPI Media Group Dominic Desousa, and was presented to Mohammad Amin, Senior Vice President, Turkey, Eastern Europe, Africa and Middle East, EMC.
In the end-user category, Qatar University's Trevor Moore bagged the prestigious 'CIO of the Year' award, whilst the 'Future CIO of the Year' was awarded to Deepu Thomas Philip of Kuwait International Bank and Emirates Global Aluminium (EGA) received the 'IT Team of the Year' award.
Here is the full list of winners at this year's ICT Achievement Awards:
Vendors
Hardware vendor of the year: Dell
Software vendor of the year: Microsoft
Security vendor of the year: Fortinet
Storage solutions provider of the year: NetApp
Managed services provider of the year: Orixcom
Systems integrator of the year: GBM
Deployment
Government deployment of the year: Dubai Customs
BFSI deployment of the year: Kuwait Credit Bank
Education deployment of the year: Al Nahda National Schools
Construction and real estate deployment of the year: Meraas Holding
Telecom deployment of the year: Detasad
Retail deployment of the year: Ahmed Seddiqi & Sons
Hospitality and tourism sector: Kempinski Hotel Mall of the Emirates
Healthcare deployment of the year: Healthcare MENA
Energy sector deployment of the year: GASCO
End-user
IT team of the year: Emirates Global Aluminium (EGA)
Future CIO of the year: Deepu Thomas Philip, Kuwait International Bank
CIO of the year: Trevor Moore, Qatar University
Publisher's choice:
Mohammad Amin, SVP, Turkey, Eastern Europe, Africa and Middle East, EMC Middle East
Editor's choice:
Juniper Networks
AWRostamani