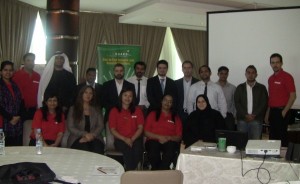 EC Council distributor Comguard recently held a roadshow in Dubai, attracting a large number of partners from across the Middle East.
Several IT and certification institutes from across the region participated in the show, too, Comguard said. The event saw names such as Global Knowledge, New Horizons, Sites Power, Formatech, PROCLOUD, BIBF, Pioneers, Infocenter, SMT and Vision take part.
The roadshow featured several executives and technical experts from both Comguard and the EC Council. For example, Hanan Wagie, Regional Director of the EMEA EC Council, shared her global overview and highlighted her opinions on best business practices.
"Partners in the Middle East can also implement best practices at a local level to gain the edge over the competition," she said. "EC Council comprehensive course content provides partners a leverage to attract IT professionals to further upgrade their knowledge to global standards, which will allow them to safeguard the Middle East region against the growing number of security threats."
The EC Council also unveiled its sales and marketing plan for 2013, explaining that, through it, partners will be able to double their sales this year.
Meanwhile, Comguard partners were updated about the latest market and technology trends in the IT security domain, Comguard said.
"Convergence of technology into consumer space is  providing a new thrust to IT security, which is opening up new doors of opportunity for our partners, who can now deliver the best-of-breed IT security training and certifications in the region," said Mohammed Mobasseri, Senior Vice President, Comguard.
"With active support from EC Council, our partners can expect good growth, both in sales and margins."
Comguard added that it plans to conduct more roadshows featuring EC Council in the future.