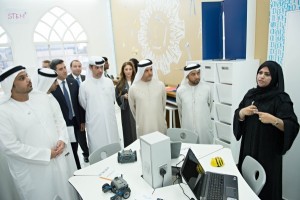 Google and the UAE Teachers' Association have launched a new Innovation Hub in Ras Al Khaimah.
The lab will be overseen by Al Bayt Mitwahid, an association set up by employees of the Abu Dhabi Crown Prince Court, and managed day-to-day by EduTech, a provider of learning services and solutions.
The community centre will combine education and technology services, offering classes in robotics, 3D printing, aerospace, electronics, computer coding, programming and green energy.
The Innovation Hub is equipped with physical and digital STEM resources such as simulations, programming software and design software. It will also be staffed by an instructor who will coach and train students and teachers.
The Hub will be available to the 47,000 students and 2,500 teachers in Ras Al Khaimah, as well as youths from other Emirates.
Sam Blatteis, Head of Government Relations and Public Policy, Gulf Countries, Google, sought to explain the decision to open the Hub in Ras Al Khaimah, as opposed to the more urbanised Abu Dhabi and Dubai. "We decided to build the innovation Hub in RAK because we see a huge potential for people to learn; there's a contagious enthusiasm for science and technology education here," he said. "We're trying to innovate in every division of our company, and this includes how we want to innovate in our foundation and in our public policy work. We're committed to supporting the development of human capital in the UAE."
The Hub aims to generate interest among students in STEM education through hands-on learning activities such as programmable robots, humanoid robots, radio controlled model aircraft with simulators and drones.
There is also a space where participants can start their own projects, including work on mini-autonomous robots.
The Innovation Hub holds up to 20 students or teachers per session.
H.E. Saif Al Qubaisi, Chairman of Al Bayt Mitwahid association, commented on the launch saying: "We wanted to create a space for the youth of Ras Al Khaimah and the Northern Emirates to learn, build and innovate, playing our part in developing the future scientists and innovators of the UAE. Innovation Hub came to life through a unique partnership between ourselves, Google and the UAE Teacher's Association."
"At Google, we believe all students should have the opportunity to become active creators of tomorrow's technology," Google MENA Director, Mohamad Mourad, said. "Through our diverse set of education efforts, we want to support the next generation of computer scientists and engineers, providing opportunities for all students to engage more directly in technology. Our goal is to leverage Google's strengths to increase access to high-quality education content and specifically in computer science, robotics and core ICT skills. We also aim to create communities of support that encourage the grassroots spread of innovation in education."
Over the next two years, the Innovation Hub aims to train over 200 teachers, with 150 hours every year spent on training.
The Hub will provide classes three days per week and one hour a day per student. For the rest of the week, it will be open to the community to use the Innovation Hub's mini maker facility.
Google Educator Groups, Google's community of educators in the UAE, will be providing workshops and exchanging good practice with the Innovation Hub.
The workshops will provide teachers with the basics of using technology for education and may focus on Google tools, such as Gmail, Drive and YouTube.