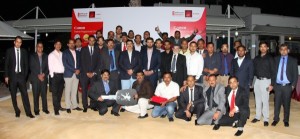 Canon Middle East hosted its Business Awards ceremony to honour its best-performing IT channel partners in Oman.
As part of the Awards, IT dealer Rahat Computers was adjudged as the winner in the laser category, while WINS Computer was named the Inkjet winner.
Atlas Computer, who joined Canon in 2008, along with Arms Computer, were winners in the Consumable Business and in the Mid-High and Colour Printer categories respectively.
Arms Computer also won the most sought-after 'Partner of the Year 2014' award and drove away with the prize of a delivery van.
Intisar Corporation was awarded for being the overall OIP Business of the Year while Ex-n-Tech and Office Equipment secured the upcoming dealer of year award.
"Canon is a leader in the imaging and business solutions category in terms of technology, performance and range," said Hendrik Verbrugghe, Marketing Director, Canon Middle East. "This success has been built on many factors, including our product range, the service we offer, and most importantly, our ongoing programme for the development of channel partners and dealers in the Sultanate. The Canon Channel Partner programme seeks to continuously recognise the contribution of key players and team members of the Oman's IT dealer channel who contribute to our success."
Following the awards, Canon introduced its latest models of laser and inkjet printers. The iSENSYS laser printers feature Canon's Quick First-Print, energy efficiency technologies, and its MAXIFY printers feature inkjet with a host of features including Wi-Fi connectivity.
The Canon Partner Program was organised in co-ordination with GENETCO, Canon's authorised distributor in Oman. The program is an initiative by Canon Middle East to engage more with channel partners and strengthen relationships with end-user clients across the Sultanate.  The initiative launched last year saw 19 IT dealers in the Sultanate register for the channel partner programme.
"The demand for cost effective all-in-one office inkjet printers have significantly increased within the segment of home office users in Oman," said Dr Muthanna Al Durrah, CEO, GENETCO. "We are happy to cater to this growing segment and take forward Canon's vision of providing cutting-edge technology to business and home-office users. Canon has always been committed to developing its channel relations in the Sultanate and incentive programmes such as this enable us to work closely with our channel partners. We are very pleased with response for the debut Canon Business Awards in Oman and look forward to build on this success."