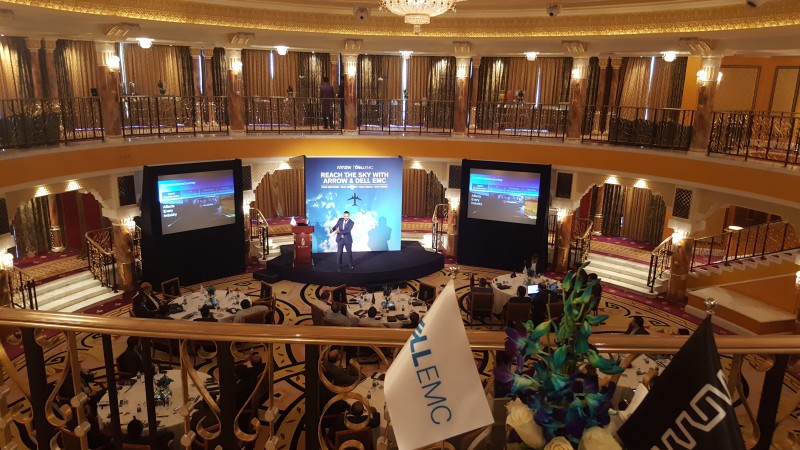 Regional value-added distributor Arrow ECS, together with its vendor partner Dell EMC, hosted a joint conference themed 'Reach the Sky', for customers and partners this week at Burj Al Arab.  The objective was to communicate key market trends and the latest solutions offered by both companies for the digital era.
The distributor's focus has been on building modern data centres that are simultaneously cost-effective, efficient and agile. With modern applications needing a modern networking strategy, Arrow ECS aims to equip its partners and customers with the tools and capabilities that will enable them to take better control of the network.
During the two-day event, Dell EMC highlighted the features of its latest solutions in the hyperconverged infrastructure, storage, servers, networking and data protection space.
The first day was dedicated to channel partners where the attendees learned how to enhance their selling propositions and present unique approaches to customers. The second day brought together 70 end-users from local enterprise and SMBs, who were given information about Dell EMC's latest product offerings.
Vimal Kocher, managing director, Arrow ECS Middle East, said, "Our goal with these educational workshops is to provide channel ecosystem partners with the latest information and fresh perspectives of modern networking technologies. These technologies encompass key elements including hyperconverged infrastructure, storage, servers and networking and data protection.
"Arrow is uniquely positioned to provide effective and comprehensive enablement programmes from logistics, operations, pre-sales, post-sales, marketing to financing that they need to deliver turnkey IT solutions to their customers."
According to Kocher, the interaction with end-users also provided the firm with first-hand knowledge on their common pain-points and obstacles in preventing them to optimise their networking and data centre infrastructure.
"This gives us a chance to evaluate how we can customise our networking solutions to help them with their digital transformation," he added.
At the conference, Arrow ECS also reiterated its main value proposition to its regional partners, which is "to enable, support and empower partners to deliver turnkey solutions to their customers."
Samer Semaan, value-add distribution manager, Gulf and UAE, Dell EMC, said, "Our aim was to communicate to our customers and partners on how Dell EMC can help with their digital transformation journey through our distribution partner, Arrow. When we say transformation, it is essential to note that there are four aspects to it – digital, IT, workforce and security. We are building solutions to ensure our customers are able to reach all these four aspects.
"The event's chief objective was to deliver to our customers on what is needed to support their infrastructure from a modern IT architecture perspective. We want to partner with our customers as they make this journey to the digital era."
Dell EMC and Arrow ECS also hosted the Bahrain leg of the 'Reach the Sky' conference, which put the spotlight on how channel partners in the GCC state can help customers transform their data centres.