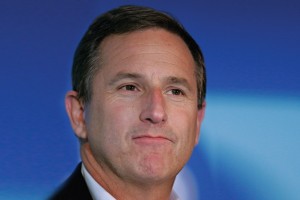 Dell and Oracle will integrate hardware and software for customers through a strategic partnership, the companies announced on Tuesday. 
The deal expands the existing partnership between the two companies and will in part be exclusive, said Marius Haas, president of Dell's Enterprise Solutions business. He announced the partnership in a keynote address at the Dell Enterprise Forum in San Jose, California.
The companies will work together to deliver Oracle software on Dell x86 server platforms, optimized for those systems, and jointly provide support. The joint offerings will include Oracle Linux, Oracle VM, Oracle Enterprise Manager, as well as Oracle's database, middleware and applications, Oracle Co-President Mark Hurd said in a video message to the conference.
"We test it together, we patch it together, we support it together," Hurd said. The goal is to free enterprises from integration and maintenance tasks and let IT departments spend more time on internal innovation, Hurd said.
"This allows customers to get integrated solutions and support from Dell, with Oracle support backing their entire solution," Hurd said.
Dell will be a preferred x86 partner for Oracle, Hurd said. It was not immediately clear what exclusive activities will be included in the partnership.
"We're doing things that … they will not do with others," Dell's Haas said.