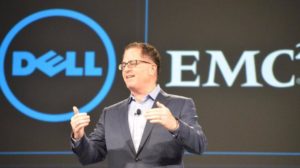 Michael Dell today announced at EMC World 2016 that once its $67 billion merger with EMC has closed, the new company will be called 'Dell Technologies'.
Dell Technologies will comprise Dell, EMC Information Infrastructure, VMware, RSA, Pivotal, SecureWorks and Virtustream, and will adopt the name once formalities of October's announcement have been completed.
The new enterprise business, meanwhile, will be branded 'Dell EMC'.
Michael Dell said, "Dell and EMC complement each other in terms of technology. When you combine our capabilities in PCs, cloud infrastructure, servers and storage, you have a company that is perfectly positioned to stand at the heart of technology infrastructure, and of human progress."
 EMC also announced multiple new data centre products and services for data centre transformation initiatives at the event.
The firm introduced its Unity family of all-flash storage; Virtustream Storage Cloud platform; EMC MyService360 service-centric online dashboard, EMC Enterprise Copy Data Management (eCDM) and ViPR Controller 3.0.
"The IT industry is in a state of massive transformation, resulting in both disruption and great opportunity," David Goulden, EMC Information Infrastructure CEO, said. "Every business leader, across every industry, is facing the dilemma of how to support and grow traditional IT infrastructure while modernising the data centre in order to support the development of new applications and advance their digital agendas. Some are doing all of this simultaneously. The products and services announced today will help advance the customer's journey to build a modern data centre in order to thrive as a digital business."
Along with its message of 2016 being the "year of all-flash" EMC announced the expansion of its storage portfolio with its Unity family of storage arrays. The new all-flash array, is available in all-flash, hybrid, converged and software-defined configurations and is designed to help customers make an affordable and simple transition from disk to flash.
Virtustream Storage Cloud is a cloud storage platform offering enterprise-levels of resiliency and performance combined with web scale.
Cloud-based service dashboard MyService360 is available at no additional cost to customers registered with EMC Online Support, and provides "near real-time" visibility into the health and status of a an EMC data centre environment.
MyService360 is built using EMC's internal data lake and provides analytics and visualisation tools designed to improve, enhance and simplify the way customers engage with EMC products.
eCDM, meanwhile, is an expansion of EMC's Copy Data Management portfolio which helps customers tackle data sprawl and reduce the cost of storing and managing multiple copies of the same data.
ViPR Controller 3.0 bridges traditional and cloud native environments. New updates announced today help customers modernise their multivendor storage environments, with support for over 50 EMC and third-party storage platforms.
The firm also announced the latest addition to its cloud portfolio, Native Hybrid Cloud (NHC) – a turnkey platform for cloud-native application development and deployment.
As a fully integrated and engineered platform, is designed to help enterprise IT and operations teams better collaborate with developers, allowing for faster application development and delivery.
NHC leverages Pivotal Cloud Foundry, the cloud-native platform, and enables deployment of a cloud-native application developer platform and infrastructure services in "as few as two days" according to EMC.
Developers can more quickly design, build, deploy, and scale cloud-native applications because of the tight integration of NHC IaaS with Pivotal Cloud Foundry.
NHC brings developers a set of services for deploying, scaling, and managing the application life cycle.
It offers an add-on option that produces a toolkit for data scientists to perform big data analytics.
It brings together infrastructure elasticity, self-healing, automated application runtime, and extended developer and IT ops services.