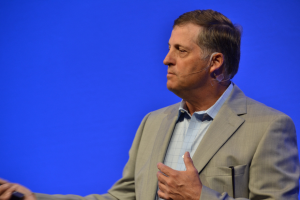 Dell today unveiled a series of end-to-end storage portfolio updates aimed at further optimising enterprise data at every point of its lifecycle.
The new products were revealed by Darren Thomas, VP and GM, Dell Storage, at the company's second EMEA Dell Storage Forum, held at the Marriott Rive Gauche Hotel in Paris.
"The nature of IT and what a data centre should do for an organisation is changing rapidly as customers face multiple and often competing models of how technology is delivered – from client to cloud to converged," Thomas said.
"Dell is best positioned with an end-to-end storage architecture that can optimise data at every point in its lifecycle through intelligence and automation. Dell's 'Fluid Data' architecture enables new capabilities that power the data centre so customers can drive real business benefits."
The first to take the spotlight was the new PowerVault MD3 software, which offers enhanced data protection, performance, capacity and virtualisation capabilities, and is designed to maintain up to 99.99 percent availability.
The data protection enhancements include dynamic disk pools that simplify disk management and improve rebuild performance by distributing data across all drives, decreasing significant recovery time of drive failures.
In addition to current fibre channel replication capabilities, new IP-based remote asynchronous replication protects against site failures, improves application speeds and increases distance support, Thomas said.
Furthermore, new software application integration and efficiency capabilities include VMware vStorage APIs for Array Integration (VAAI) support – which allow customers to offload certain storage related tasks from the server to PowerVault arrays – whilst new thin provisioning capabilities enable arrays to automatically allocate storage as needed for simplified expansion of capacity.
The next update that Thomas unveiled was the Dell Compellent Storage Center 6.3 array software, which offers enhanced scalability and performance for Dell Compellent arrays.
Compellent SC8000 controllers with Storage Center 6.3 software can increase performance up to 100 percent over previous versions when running enterprise workloads, Thomas said.
With this release, Dell also become the first storage provider to announce end-to-end 16GB fibre channel capabilities, which it said doubles bandwidth and speeding access to business critical applications and data.
Designed for medium to large enterprises and cloud computing, Dell Compellent arrays offer automated tiering, advanced data protection and increased ease of use, combined with a modular design that enables users to update storage software at no additional cost.
Next on Thomas' list of announcements was Quest NetVault Backup 9.0 – the new Quest data protection software integrated with NetVault Extended Architecture (NetVault XA). This release features a new graphical user interface and a set of shared services to unite multiple Quest data protection technologies for simpler management.
The software enables mid-to-large sized organisations to simplify data protection while protecting critical applications in physical and virtual heterogeneous environments. NetVault's cross-platform capabilities are expanded to Windows Server 2012 and Novell Open Enterprise Server 11, while Windows Server 2012 Hyper-V and VMware vSphere enhancements offer improved functionality, performance and scalability.
The penultimate release of the day was the latest result of Dell's partnership with CommVault. Dell PowerVault DL2300 is a new enterprise-class data protection appliance that combines Dell PowerEdge 12th generation servers with CommVault Simpana 9 modern data protection software to provide large enterprises with data backup, recovery, replication, archiving and deduplication for both physical and virtual servers.
The new appliance incorporates latest generation processor and memory capabilities to optimise deduplication database configurations for higher backup performance. Users can also save administrative time with built-in policy-based automation for managing backup and archiving.
Dell's fifth and final product unveiling of the Forum came in the form of PowerVault DL4000, which is optimised for SMEs and remote offices and is the first backup appliance based on AppAssure software, following its acquisition in February.
The appliance provides a complete backup and disaster recovery solution for business-critical applications and data with seamless integration of software and system management, Dell said.
With 5.5 terabytes of internal storage capacity, the 1U turnkey appliance offers established snapshot, replication, deduplication and compression software for efficient use of backup capacity. Users can benefit from hosting two virtual standby machines that protect critical applications for up to two servers, offering quick disaster recovery, the company added.
The PowerVault MD3 software enhancements and PowerVault DL2300 are available now, whilst Quest NetVault Backup 9.0 is planned for December 2012. Availability for PowerVault DL4000 and beta availability for Compellent Storage Center 6.3 are planned for early 2013.
CNME Editor Ben Rossi is reporting live from the Dell Storage Forum in Paris. You can following live Twitter updates at @computernews and #DellSF.