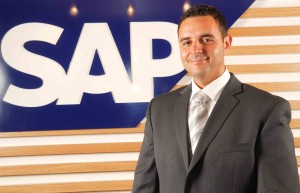 The MENA region is sufficiently lacking mobility policies and strategies, especially small and medium sized businesses, according to Sam Alkharrat, Managing Director, MENA, SAP.
Speaking exclusively at Sapphire Now, Madrid, Alkharrat claimed that the region is behind on its adoption of strong mobility policies, which is gaining momentum more quickly than expected.
"The MENA region is behind, they're not there with mobility, not at all," he said.
"The top 500 companies are in place. However, small to medium sized businesses aren't close at all."
As well as this, Alkharrat believes that the region is still struggling to get on board with cloud, compared to other regions, and that a large amount of industry sectors are finding it difficult to adapt to the consumerisation of IT.
"Cloud is still sleepy here. Two years ago, I said it would take three years, so I'm still on track with that," he claimed.
"And in regards to the next generation of business applications, mobile devices and cloud technologies, I've found that most sectors outside of IT are struggling to tap into where the value is. What will happen is that younger people will start becoming leaders of large companies and just transforming them, the older generation will struggle."
Alkharrat said that sectors which have more face time with customers have embraced the value adding elements of mobility, like retail, but that manufacturing, oil and gas companies, etc, aren't comfortable at all. He continued, saying that this will eventually become damaging for them, taking away revenue and increasing task time.
"SAP is exactly where it wants to be in terms of new technologies. We can help companies with our mobility management, new business interfaces, applications, etc."
"If companies in broad sectors don't get on board with these, then their assets are going to suffer as a result."
However, Alkharrat believes that enabling mobility isn't all good news.
"It's a restriction, it's very pervasive. The classical model was working until five, then going and doing something else, well now if you can work at any hour, you're going to keep doing it. On the other hand, if you don't work well then you're not going to work at all," he said.
"Also, security is obviously a major issue. Before, companies would protect all their valuable assets from inside four walls, surrounded by a wall of security. Now, people who are accessing information from outside these walls, leaks open up."
Another point the managing director made, was that smart device vendors are becoming increasingly sophisticated in terms of finding ways to penetrate consumer and business markets by coming up with new devices on a regular basis.
"If we have a device for over six months, we feel out of date, they've done that to us. Vendors find a way to convince us that we need a new iPad every seven months. An old desktop would be fine for two to three years," he concluded.
Despite his concerns, Alkharrat was quick to praise SAP and the event itself. He claimed that the company had experienced market validation on the benefits of its products, especially HANA, its in-memory data analytics product.
In terms of the event itself, he claimed that it's absolutely critical to come out and invite customers from the MENA region to join them and learn from larger companies which they would never get any exposure to in other circumstances.
Joe Lipscombe is reporting from Sapphire Now, Madrid. Follow live updates at @computernewsme.