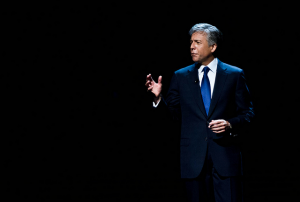 SAP kicked off its Sapphire Now event in Madrid today by announcing the release of its new customer experience solution, 360 Customer.
Co-CEO Bill McDermott delivered his keynote via satellite link due to a family emergency which prevented him from travelling.
11,000 people, including media, customers, partners and analysts, have swamped Madrid for the event, most of which appeared to be inside the main arena to hear from McDermott and his fellow co-CEO Jim Snabe.
The keynotes failed to give much away, focusing mainly on how the consumerisation of IT is transforming technology and how SAP plays a major role by developing social business apps, fully integrated with its cloud offering and HANA technology.
However, the company did release information on its new customer solution product, 360 Customer, which integrates all the elements of innovative technology in order improve the quality of customer care.
"I am so proud to be able to launch with you, as of this morning here in Madrid, SAP 360 Customer," said McDermott.
"The number one priority of 72% of CEOs in the industry today is to provide the complete next-generation customer experience to their customers. They want to provide them a unique big data experience, a social experience, and they want it all to be mobile, because we've all gone mobile."
Powered by the HANA platform, the solution will harness the power of in-memory computing, cloud, enterprise mobility and collaboration to allow organisations to revolutionise the way they engage with their customers beyond traditional customer relationship management (CRM), McDermott said.
"With this product, you can now manage the total lifecycle of the customer experience. It's fully integrated with the cloud, it's totally mobile, it's the complete package – now I'm excited."
According to McDermott, 360 Customer enables companies to improve customer loyalty, maximise customers' lifetime value and optimise their resources to create more value for customers and shareholders. The "breakthrough" in-memory technology of SAP HANA will turn this vision into a reality for enterprises around the globe, he said.
"This is a game-changing solution that will help companies market better, sell better, service better and truly create remarkable experiences for their customers."
McDermott finished his keynote by thanking all of the customers and partners who made the trip to Madrid, and showed a video of the Desmond Tutu HIV Foundation working in Africa, describing how its implementation of SAP technologies has allowed 30% extra efficiency for all digital tasks.
"Bold moves give you growth," he concluded.
Joe Lipscombe is reporting live from SAP Sapphire Now in Madrid, Spain. Follow updates at @computernewsme.