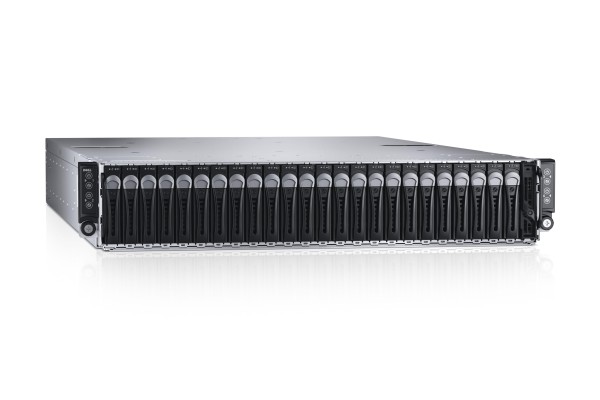 Dell has unveiled the PowerEdge C6320, the latest addition in its 13th generation Dell PowerEdge server portfolio.
The PowerEdge C6320 delivers up to two times performance improvement on the leading HPC performance benchmark, and has the right mix of cost-efficient compute and storage in a compact, 2U chassis for HPC and hyper-converged solutions and appliances.
It is designed to offer four independent server nodes in a 2U chassis. Compared to the previous generation, it provides up to two times the performance improvement on the LinPack spec, up to 45 percent improvement on the SPECint_rate benchmark and up to 28 percent better power efficiency on the Spec_Power benchmark. This allows customers to optimise application performance and productivity while conserving energy use and saving traditional data centre space.
The PowerEdge C6320 features the latest generation of Intel Xeon E5-2600 v3 processors and provides up to 18 cores per socket (144 cores per 2U chassis), up to 512GB of DDR4 memory and up to 72TB of flexible local storage. In addition, the PowerEdge C6320 now comes integrated with iDRAC8 with Lifecycle Controller. By leveraging iDRAC8, customers can automate many routine management tasks and reduce the time and number of steps to deploy, monitor and update their servers throughout their lifecycle.
For the most demanding HPC and big data workloads, customers can pair the PowerEdge C6320 with the accelerator-optimised PowerEdge C4130. As organisations are increasingly turning to GPUs for workload acceleration, the PowerEdge C4130 is a GPU dense and flexible rack server purpose-built to speed the most demanding workloads. The PowerEdge C4130 delivers up to 33 percent better GPU/accelerator density than its closest competitors and 400 percent more PCIe GPU/accelerators per processor per rack U than a comparable HP system. The PowerEdge C4130 can also achieve over 7.2 Teraflops on a single 1U server and has a performance/watt ratio of up to 4.17 Gigaflops per watt.
"As organisations continue to be inundated with information, there's an increasing correlation between data analytics and high-performance computing," said Ashley Gorakhpurwalla, Vice President and General Manager, Dell Server Solutions. "From powering the revolutionary discoveries being made by top research organisations to helping accelerate product and service deployment for leading IT organisations, the PowerEdge C6320 is the latest example of Dell's commitment to helping organisations future-proof their business while enabling companies to leverage information for competitive advantage."
"More and more IT professionals are turning to Dell's engineered and hyper-converged solutions as a method to simplify and streamline IT capabilities while delivering both rapid time-to-value and business results," said Jim Ganthier, Vice President and General Manager, Dell Engineered Solutions and Cloud. "As the Dell Engineered Solutions portfolio continues to evolve, the PowerEdge C6320 will play an integral role. Its flexible, modular platform with automated management makes it an ideal platform for appliances such as the Dell Engineered Solutions for VMware EVO:RAIL, Dell XC Series of Web-scale Converged Appliances and our HPC offerings. The exceptional mix of features and capabilities gives our customers best-in-class performance, price and power efficiencies in a way that meets their business requirements both now and into the future."