The Dubai Electricity & Water Authority (DEWA) and Cisco announced a partnership to explore potential collaborative opportunities during GITEX 2010.
DEWA's top priority is to integrate the latest technology solutions into its infrastructure. This strategy is in line with the objectives of the Dubai Strategic Plan, as outlined by His Highness Sheikh Mohammed bin Rashid Al Maktoum -UAE Vice President, Prime Minister and Ruler of Dubai, which aims to establish Dubai as the region's global economic and financial pole.
His Excellency Saeed Mohammad Al Tayer, MD and CEO of DEWA stated, "This new accomplishment is an inherent part of our strategic plan to increase the competency, productivity and professional development of DEWA staff and to foster the technological development of telecommunication networks as well as providing technological support in the design of the networks of DEWA. This also comes within our efforts to achieve the electronic enablement that will provide high-quality customers' service and streamline our services and procedures."
"This collaboration will bring training and continuous education opportunities for DEWA's employees that will strengthen their productivity, career development and job satisfaction and also enable us to stay at the forefront of technological updates and market transformations to be able to harness new trends and translate them into new business opportunities," he added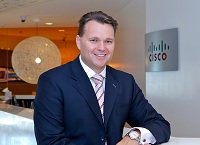 Wayne Hull, director and general manager, Cisco UAE
Wayne Hull, director and general manager, Cisco UAE said, "Cisco is proud to work closely with DEWA to ensure that it remains at forefront of the technology developments in order to deliver customer satisfaction and promote Dubai's vision for the delivery of electricity and water services at a world-class level. Our collaboration with DEWA demonstrates Cisco's commitment to continue to support government entities in the UAE in order to build a better future for citizens through the intelligent application of information communications technology, using the network as the platform. "
"Today's announcement is a significant step forward in our collaboration with Cisco. We believe that combining DEWA's comprehensive infrastructure and services with Cisco's established experience in providing network services will result in much richer ways of providing people with access to the information and services across our multiple channels," said Engineer Marwan Salem bin Haider, VP and chief of IT at DEWA. "Initially, the focus will be on the exchanging of information on the evolution of technology solutions related to the next generation networks both for the wire line and mobile networks, evaluation, early field trials and pilots as well as collaboration on customer briefings and proof of concepts."
DEWA and Cisco intend to co-operate in the creation of new services primarily focused on aligning DEWA's ICT strategy objectives with Cisco Group's advanced technologies that add more value to DEWA than could be achieved individually.