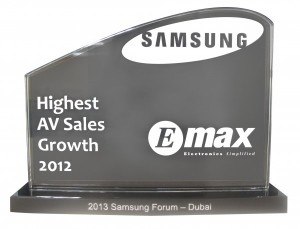 Emax Electronics on Tuesday announced that it had been given achievement awards by Samsung Gulf in the audio/video and home appliances categories.
Emax was recognised for the highest sales growth for audio/video in 2012 across the GCC, and the fastest response to display home appliances requirements across the GCC.
The two awards were presented by Young Soo Kim, President of Samsung Gulf, at a ceremony held at the Grand Hyatt, Dubai.
Receiving the award, Neelesh Bhatnager, Founder and CEO, Emax, said, "Emax Electronics is constantly working towards delivering superior customer satisfaction, and we are most pleased to be rewarded by our valued partner, Samsung.
"Emax Electronics is investing time and money on training of best practices at the shop floor level, the results of which are clearly evident in our increasing sales."
In 2012, Emax was named Retailer of the Year and Best Electronics and Entertainment Store by Mall of the Emirates. It was also named the Most Admired Retailer of the Year, in the consumer electronics category at the annual Images Retail Middle East Awards 2012.