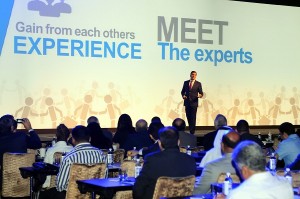 IBM's rugged reseller, eSolutions Maximo, took the fight to competitors last month when it rolled up in Dubai for its Middle East User Group Conference. With political powerhouses, top executives and hundreds of customers in tow, the company arrived bearing the message of maximising enterprise assets – something that the region is short of doing, according to Gaby Matar, Group Managing Partner.
eSolutions Maximo made it clear from the off – this conference is about ensuring that clients can take maximum value from enterprise infrastructure and assets. It's a keen topic in the industry at the moment, as vendors believe that many clients are over-spending on solutions without utilising the operational effectiveness.
Maximo laid out an impressive agenda focused on industrial equipment, facilities, transportation, and IT assets. The company stated that the priority was to improve uptime, availability and reliability to its customers, who certainly came out in force.
In this regard, the keynote speaker may have come as a surprise for many customers. Dr Jamil Mahuad, former president of Ecuador, stepped on stage to deliver a talk on the importance of negotiation and communication skills.
"When you're providing technological solutions to the lives of people, you're always in contact with other human beings," he told CNME exclusively after the keynote.
"Finding better ways to understand each other is very important."
Dr Mahuad made his feelings around the importance of communicating through technology well heard, and believes that current opportunities to build relationships worldwide have never been so strong.
"Many of the problems we have in the world are just based on ignorance, and the fact that we do not know one another. I truly believe that technology will help for a better future," he said.
And this is a vision shared by IBM and Maximo, it seems. Matar, said he believes that business has never been so good, and the solutions and products on offer have helped companies all over the Gulf to really accelerate their business.
Maximo has seen a 28.5 percent year-on-year growth in the MENA region, something that Matar believes demonstrates the value and appreciation of its enterprise management portfolio. Maximo covers five areas in the region – oil and gas, IT, facilities, utilities, and transportation.
"Our wide range of offerings can bring so much value to market in so many different ways," he said.
"Some are only using Maximo for the production line, others are simply using it for the facilities. They have all types of assets in any one system and the benefits are truly great, and the turn-out today demonstrates that. However, the key to this event is that we know that each of these customers can benefit a lot more from our system."
It would appear as though the customers are fully aware of the rumble coming from the Maximo camp. Matar explains that the MENA event is in fact the second largest Maximo gathering outside of the United States.
"We have 30 subject-matter experts from IBM supporting this event – that speaks volumes," he said.
The regional contact list isn't a modest one for Maximo. Matar and team have some extremely high-profile names on their books, including Dnata, Dubai Airports, and the RTA, as well as the oil sector of Abu Dhabi, and some Saudi Arabian accounts.
"We couldn't be happier to have these customers on board as a reference. Dubai Airports, for example, stood up in front of everyone on day one and said everything I have just said, to the entire conference. Having that reference is very telling," he said.
"On top of this, the value they can all take from this event just adds to that. The things we've been able to discuss with them over the course of the two days has improved their awareness and skill sets to be able to deliver better results and take more from the Maximo system. We don't rest on our laurels, we have a great track record for providing after care."
Matar believes that granting the opportunity for customers and clients to get together and share success stories, as well as concerns, will really aid them to progress and move forward.
Maximo reported that around 10 percent of the clientele was in fact new customers and Matar said that the feedback has been so good, he is confident that Maximo will again build on its customer base following the event.