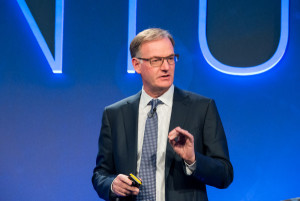 EMC today announced additions to its all-flash storage solutions  as well as announcing an 'inflection point' in the storage market.
The firm launched its VMAX All Flash enterprise data services platform and  DSSD D5 rack-scale flash solution.
The VMAX All Flash consolidates mixed block and file workloads, rich data services, IBM mainframe and iSeries support, and scalable storage growth.
EMC is extending VMAX data services to VMAX All Flash, its appliance-like packaging now containing both hardware and software.
The array has been re-engineered to offer two models: the VMAX 450 and EMC VMAX 850.
The DSSD D5, meanwhile, is "rack-scale flash" storage category with which is designed for real-time analytics for Hadoop and Oracle.
It offers shared flash storage for up to 48 connected servers. EMC promises "latency as low as 100 microseconds, throughput as high as 100 GB/s, and IOPS of up to 10 million in a 5U system."
Jeremy Burton, President of Products and Marketing, EMC, said, "Today's enterprise customer wants to enable their business with modern data centres that deliver agility, efficiency and speed. We're expanding upon EMC's primary storage strengths and all-flash leadership, built with XtremIO. With the introduction of VMAX All Flash and DSSD D5 there is virtually no data centre use case we're unable to address from traditional high-end enterprise workloads, to use cases that people haven't even dreamt about in the data centre of tomorrow."
By 2020, EMC estimates that all storage used for production applications will be flash-based with traditional disk primarily being used for bulk and archive storage only.
EMC is also extending its Xpect More program to offer customers planning, deployment and management for the VMAX All Flash array. The program offers the combination of a lifetime flat-price maintenance model and flash endurance protection.