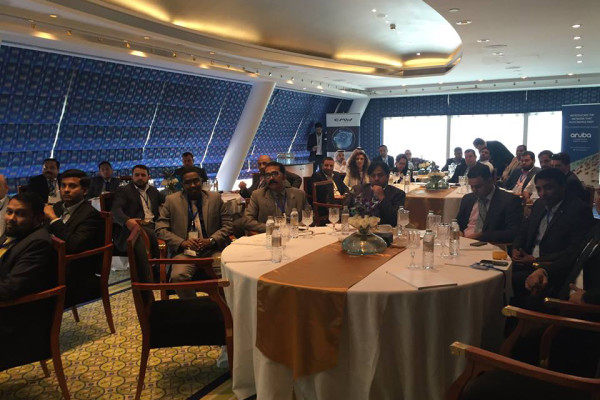 EMW, a valued Aruba, a Hewlett Packard Enterprise company Gold partner, recently organised a conference entitled 'How Tomorrow Moves' at the Burj Al Arab on 20th January 2016. The event brought together CIO's, IT heads and high profile delegates from large government and private enterprises.
Serjios El-Hage, CEO EMWme and Ammar Enaya, Regional Director, Middle East and Turkey at Aruba welcomed the attendees, it was then followed by sessions on Aruba's security and mobility portfolio by the Aruba team.
The presentations at the event highlighted the technological and logistical challenges as well as the benefits of 802.11ac deployment, device and app management and extending mobile services to visitors and customers.
At the event, Aruba also demonstrated its flagship 802.11ac Wireless LAN (WLAN) solution which combines gigabit Wi-Fi with device density and application intelligence. The solution features Aruba's ClientMatch technology, which automatically ensures that devices are always connected to the best possible access point, even as they roam within the Aruba wireless LAN. The company also demonstrated its BYOD solution- Aruba ClearPass.
"In today's increasingly mobile world, the ability to connect whenever and wherever you are is no longer a luxury, but an expectation," said Serjios El-Hage, CEO, EMWme. "Providing an optimal mobile experience is key to increasing customer experience and satisfaction and pivotal to increasing productivity. To do it, you need a way to move quickly toward a mobile-first, cloud-first approach."
"It was wonderful to see some of the UAE's most exciting customers," said Gamal Emara, Country Manager, UAE, Aruba. "Businesses need no longer be shackled to an outdated networking model defined by client server computing. Using software programmability that extends across the network, you can adapt in real time to the demands of #GenMobile. This new network understands contextual information such as where the user is, what applications they are using and which devices are connecting. It can also assign and enforce policies based on a complete view of the end point (in the case of IoT) or the user."