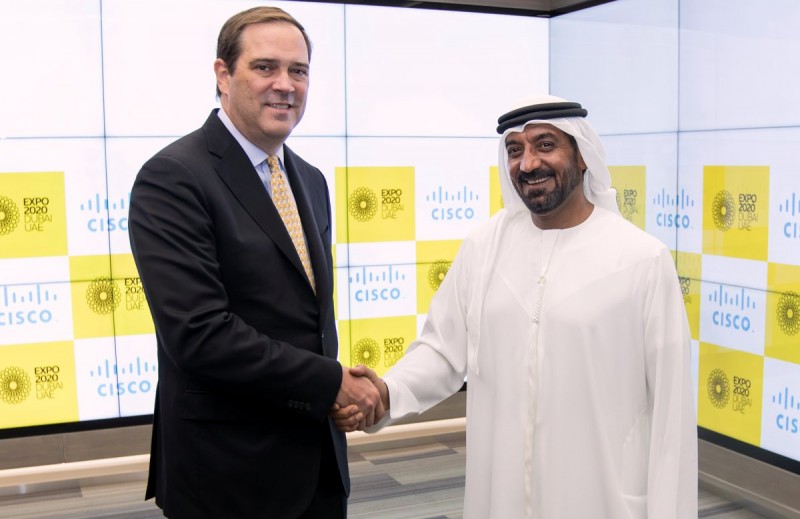 Expo 2020 Dubai has recently signed Cisco to provide its latest technology innovations that to enable seamless digital experiences at the site.
Cisco solutions will help enable visitors, exhibitors and organisers to connect anywhere, on any device – securely, reliably and seamlessly.
Expo 2020 will take place between October 20, 2020 and April 10, 2021 and organizers expect nearly 25 million visits, 70 percent of from outside the UAE.
Expo 2020 Dubai and Cisco will work closely to deliver a global event that is at the forefront of technological evolution and demonstrate how connectivity can be a force for social and economic good, in alignment with the event's theme, 'Connecting Minds, Creating the Future.'
As the next World Expo's Digital Network Partner, Cisco will provide the secure, intelligent foundation for connectivity through its intent-based networking solution, making Expo 2020's technology infrastructure the most advanced in the event's 167-year history.
Sheikh Ahmed bin Saeed Al Maktoum, Chairman of the Expo 2020 Dubai Higher Committee, said, "Dubai is rapidly becoming one of the smartest and most connected cities in the world, exploring futuristic solutions that range from driverless vehicles to artificial intelligence solutions.
"At Expo 2020, we hope not only to share the expertise we have acquired across these areas, but also, through our partnership with Cisco, to connect minds around the world and capture the many opportunities made possible through collaboration."
Expo 2020 will also utilize the Cisco Vision signage solution to help deliver information and experiences throughout the Expo in a way that enhances attendee engagement. With thousands of displays throughout the Expo site, the Cisco Vision deployment will be the largest of its kind in the region and one of the largest globally. The solution provides dynamic signage and high-definition digital content and video that will help enable more than 200 international participants to offer compelling, interactive experiences and engage with visitors and employees in new and more impactful ways.
Shukri Eid, Managing Director – East Region, Cisco Middle East, said, "The path to the digital future is paved through the power of intelligent networks. We've partnered with Expo 2020 to help ensure their infrastructure delivers on that promise and brings unique experiences for visitors at every stage of their visit."
With hundreds of thousands of people expected on peak days, Expo 2020 will be a whirl of connectivity – not just for visitors, but for the world. Whether it is sharing images of the inspiring architecture and exhibits, using the Expo smart phone app to navigate the site, check queue lengths, order food, or make use of other digital services on offer, millions of people who come to visit over six months are going to be connected and engaged with the help of Cisco.
Cisco joins a number of global brands that are Expo 2020 Dubai Official Premier Partners including Emirates Airline, Accenture, DP World, Emirates NBD, Etisalat, Nissan, SAP and Siemens. More partnerships are expected to be announced in the coming months.